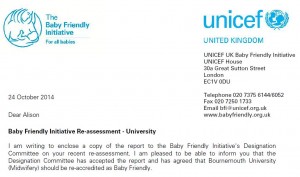 Congratulations to all in the midwifery team for achieving re-accreditation as Baby Friendly.  The UNICEF Baby Friendly Initiative's Designation Committee recently re-assessed Bournemouth University's Midwifery programme. This committee reported earlier this week that "Bournemouth University (Midwifery) should be re-accredited as Baby Friendly.
The UNICEF UK Baby Friendly Initiative University Standards programme is an accreditation programme aimed at university departments responsible for midwifery and health visitor/public health nurse education. It was developed to ensure that newly qualified midwives and health visitors are equipped with the basic knowledge and skills they need to support breastfeeding effectively.
Baby Friendly Initiative accreditation is awarded to an individual course, not to the university itself. Universities are welcome to apply for accreditation for each of the courses they provide for the training of midwives or health visitors/public health nurses.
Well done!
Prof. Edwin van Teijlingen
CMMPH