On Monday 20th October you may have seen the unveiling of the BUbble dome on Talbot campus for Open access week.This proved to be a major success and talking point of the campus attracting alot of positive attention. For those of you who may wish to get involved in using the BUbble Dome, here is a step by step guide on setting it up.
Slide the rolled up dome out of your vehicle using the blue bag provided. Once you have the dome out of the van, move the dome into the centre of the place you wish to pitch it.
Out of the van you will need to get the Power cables, extension lead, 6X gold weights (see photo), 1X Orange Air pump, 4 Queue Barriers and the Seating pads. Firstly, plug the power cable into the electrics.
The next step is to lay out the dome so that the entrance is at the end you wish it to face; It may be wise to put up queue barriers around the area before rolling it out.
 One person out of your group must go into the deflated dome through the front door and thread the Power lead through the vent in which the air blows through. One person is then required to assist from the outside in pushing the cable through the tube (As seen in the pictures). The tube can then be tied to the Air pump as shown. This step is crucial!
Make sure that the inside door is zipped up and turn on the Air pump, As the Dome inflates make sure that the outside Air flaps are sealed.
Once the Dome is half inflated begin to tie down the weights as shown, with three weights for each hook. 
The Bubble is almost ready to use! Once the dome has reached the level of inflation you are looking for unseal the outside flaps. Then asyou begin to load cusions, tables, TV's and more, make sure you always enter the Bubble in this order:Un-zip outside door, enter the deflated space and wait as a member of your team zips this up.Once this is zipped you can open the inside door and re-zip when inside.Follow this routine as and when people are required to come in/out. 
 Once you have your Dome in operation it is important to have a team member inside and outside at all times. They will maintain numbers coming in and out to make sure the doors are correctly used. This is vital as if both doors are open, the dome will deflate extremely quickly.
 Success! Enjoy as the dome engages with and attracts great attention at your event.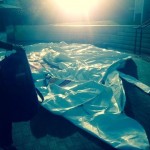 If you wish to make any enquiries about the Bubble Dome please email Barry Squires on bsquires@bourenmouth.ac.uk
Alternatively, contact Harry Gibson on gibsonh@bourenmouth.ac.uk