We would like to invite you to the next research seminar of the Creative Technology Research Centre for the new academic year, that will be delivered by Justice Opara-Martins.
Title: Critical Review Of Vendor Lock-In And Its Impact On Adoption Of Cloud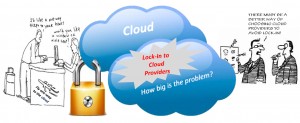 Computing
Time: 2:00PM-3:00PM
Date: Wednesday 19th November 2014
Room: P302, Poole House, Talbot Campus
Abstract:
Cloud computing offers an innovative business model for organizations to adopt IT services at a reduced cost with increased reliability and scalability. However organizations are slow in adopting the cloud model due to the prevalent vendor lock-in issue and challenges associated with it. While the existing cloud solutions for public and private companies are vendor locked-in by design, their existence is subject to limited possibility to interoperate with other cloud systems. In this seminar we will present a critical review of pertinent business, technical, and legal issues associated with vendor lock-in, and how it impacts on the widespread adoption of cloud computing. The talk in this seminar will reflect on the issues associated with interoperability and portability, but with a focus on vendor lock-in. Moreover, the talk will demonstrate the importance of interoperability, portability and standards applicable to cloud computing environments along with highlighting other corporate concerns due to the lock-in problem. The outcome of this seminar provides a foundation for future analysis and review regarding the impact of vendor neutrality for corporate cloud computing application and services. 
We hope to see you there.