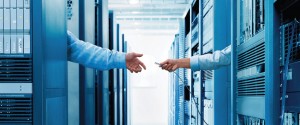 We would like to invite you to the next research seminar of the Creative Technology Research Centre that will be delivered by Adel Alkhalil.
Title: Migration to Cloud Computing – The Impact on IT Management and Security
Time: 2:00PM-3:00PM                
Date: Wednesday 5th February 2014
Room: P302 (Poole House, Talbot Campus)
Abstract: Cloud computing is a new paradigm for emerging technology in computing and IT industries that has had a considerable impact on organisations, not only by increasing the efficiency of acquiring IT resources, but also on IT management roles, organisations strategies, IT projects management, and organisations' security. This research explores the factors that influence the decision making for cloud migration and the impact on IT management roles through a series of in-depth interviews with cloud-users, security professionals and cloud providers. The main tasks that organisations should consider to successfully manage the process of cloud migration are identified. The impact of cloud computing on organisations' security is investigated by comparing end users' concerns against cloud computing security landscapes. A framework is proposed that supports the decision making process for cloud migration.
We hope to see you there.