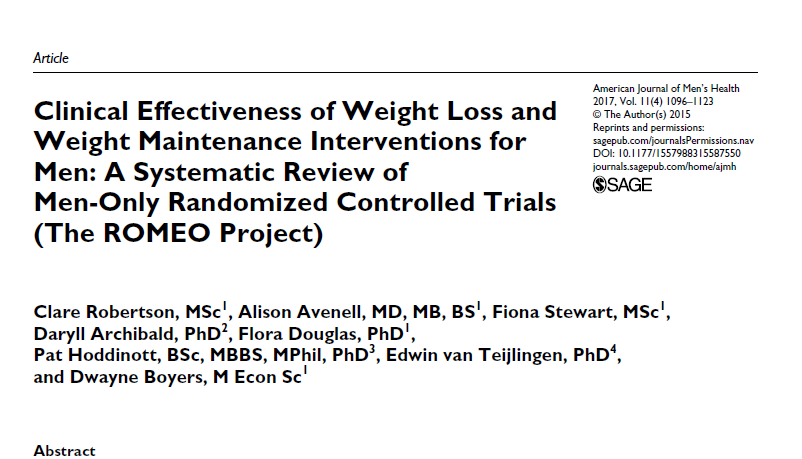 The American Journal of Men's Health published our latest paper on obesity prevention in men.  The paper 'Clinical Effectiveness of Weight Loss and Weight Maintenance Interventions for Men: A Systematic Review of Men-Only Randomized Controlled Trials (The ROMEO Project)' originates from a collaboration between BU and various universities in Scotland, led by the University of Aberdeen [1].
This systematic review paper found that reducing diets produced better weight loss than physical activity alone. The most effective interventions combined reducing diets, exercise, and behaviour change techniques . Group interventions produced favourable weight loss results. The paper reports that once engaged, men remained committed to a weight loss intervention.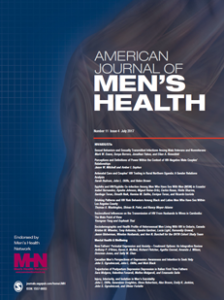 The paper concludes that weight loss for men is best achieved and maintained with the combination of a reducing diet, increased physical activity, and behaviour change techniques. Strategies to increase engagement of men with weight loss services to improve the reach of interventions are needed.  This paper is the thirteenth paper from a large NIHR grant [2-13].
The American Journal of Men's Health is an open access, peer-reviewed resource for cutting-edge information regarding men's health and illness. It is, however worth noting that although our paper is formally published in July 2017 it has been online for two years!  The journal's website states clearly that the article was first published online on June 30, 2015 BUT the issue in which it appears is published is July 1, 2017!
Prof. Edwin van Teijlingen
CMMPH
Reference:
Robertson, C., Avenell, A., Stewart, F., Archibald, D., Douglas, F., Hoddinott, P., van Teijlingen, E., Boyers, D. (2017) Clinical effectiveness of weight loss & weight maintenance interventions for men: a systematic review of men-only randomised controlled trials (ROMEO Project), American Journal of Men's Health 11(4): 1096-1123.  http://journals.sagepub.com/doi/full/10.1177/1557988315587550
Robertson, C, Archibald, D, Avenell, A, Douglas, F., Hoddinott, P., van Teijlingen E, Boyers, D., Stewart, F, Boachie, C, Fioratou E., Wilkins, D, Street, T., Carroll, P., Fowler, C. (2014) Systematic reviews of & integrated report on quantitative, qualitative & economic evidence base for the management of obesity in men. Health Technology Assessment 18(35): 1-424. http://www.journalslibrary.nihr.ac.uk/__data/assets/pdf_file/0019/118180/FullReport-hta18350.pdf
Stewart, F., Fraser, C., Robertson, C., Avenell, A., Archibald, D., Douglas, F., Hoddinott, P., van Teijlingen, E., Boyers, D. (2014) Are men difficult to find? Identifying male-specific studies in MEDLINE and Embase, Systematics Reviews 3,78.
Archibald, D, Douglas, F, Hoddinott, P, van Teijlingen, E, Stewart, F., Robertson, C., Boyers, D., Avenell, A. (2015) A qualitative evidence synthesis on management of male obesity. BMJ Open 5: e008372. doi:10.1136/bmjopen-2015-008372 http://bmjopen.bmj.com/content/5/10/e008372.full.pdf+html
Boyers, D, Stewart, F, Fraser, C, Robertson, C, Avenell, A, Archibald, D, Douglas, F, Hoddinott P, van Teijlingen E. (2015). A systematic review of the cost-effectiveness of non-surgical obesity interventions in men, Obesity Research & Clinical Practice 9(4), 310-327.
Robertson, C, Avenell, A, Boachie, C., Stewart, F., Archibald D., Hoddinott, P, Douglas, F, van Teijlingen E, Boyers D. (2016) Should weight loss and maintenance programmes be designed differently for men? Systematic review of long-term RCTs presenting data for men & women: The ROMEO Project, Obesity Research & Clinical Practice 10: 70-84.
Robertson, C., Avenell, A., Boachie, C., Stewart, F., Archibald, D., Douglas, F., Hoddinott, P., van Teijlingen, E., Boyers, D. (2015) Should weight loss programmes be designed differently for men and women? The ROMEO Project, Appetite 87: 374.
Robertson, C., Avenell, A., Stewart, F., Archibald, D., Douglas, F., Hoddinott, P., van Teijlingen, E., Boyers, D. (2015) A systematic review of long-term weight management randomized controlled trials for obese men. The ROMEO Project, Appetite 87: 374.
Robertson, C., Avenell, A., Stewart, F., Archibald, D., Douglas, F., Hoddinott, P., van Teijlingen, E., Boyers, D. (2015) A systematic review of weight loss interventions in the UK. The ROMEO Project, Appetite 87: 375.
Boyers, D., Avenell, A., Stewart, F., Robertson, C., Archibald, D., Douglas, F., Hoddinott, P., van Teijlingen, E., (2015) A systematic review of the cost-effectiveness of non-surgical obesity interventions in men, Appetite 87: 375.
Archibald, D., Douglas, F., Hoddinott, P., van Teijlingen, E., Boyers, D., Avenell, A., Stewart, F., Robertson, C., (2015) A qualitative evidence synthesis on the management of male obesity. The ROMEO Project, Appetite 87: 381.
Avenell, A., Robertson, C., Boachie, C., Stewart, F Archibald, D., Douglas, F., Hoddinott, P., van Teijlingen, E. (2016) Sex based subgroup differences in randomized controlled trials: empirical evidence from Cochrane meta-analyses BMJ 355:i5826 http://www.bmj.com/content/355/bmj.i5826/rapid-responses
Avenell, A., Robertson, C., Stewart, F., Boyers, D., Douglas, F., Archibald, D., van Teijlingen, E., Hoddinott, P., Boachie, C. (2016) Sex can affect participation, engagement, and adherence in trials, BMJ 355:i6754 http://www.bmj.com/content/bmj/355/bmj.i6754.full.pdf