Many of you have been involved in BU's summer public engagement road show that's been to places near and far, including our own town centre, Christchurch Food Festival, and further afield to Bestival, and Glastonbury.  This year we're taking our Festival of Learning stand to the Christmas Market for some festive fun!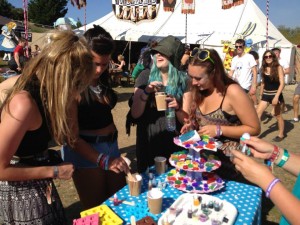 From the 11th – 13th December you'll find the public engagement team down in the Triangle supporting a range of our academic staff as they deliver activities for the public to enjoy.  So far we have activities planned looking at DNA, microscopic organisms, fitness activities in the home, as well as some quick and easy psychological tests.  We'd like to support as many of you as possible to share your research with the public so if you're interested in being involved get in touch!
We'll be running the stand 11.30am – 8pm each day and can support activities that want to run for all of that time, or if you just want to spend a few hours with us.  It can be a great opportunity to trial your plans for the Festival of Learning in July and see how the public react to your research.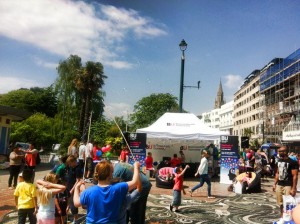 We're open to ideas for activities from academics, PGRs and students.  Anything interactive and eye-catching is a bonus – and don't worry it doesn't have to be Christmas themed! (We do of course support the wearing of Christmas jumpers, Santa hats and Reindeer antlers if that's your style!)
If you're interested in engaging students with your research then we are also running a series of "Science Stands" in Poole House Atrium on the 4th and 9th December.  Please get in touch with Sam Squelch our Student Engagement Coordinator for further details on how to be involved.