Last Thursday and Saturday 11th and 13th December, Festival of Learning on Tour went to Bournemouth's Christmas market to showcase some fantastic research activities, based on the work of BU's academics. The response from members of the public was extremely positive and many seemed keen to attend future events at the 2015 Festival of Learning (11-17 July)
Some of the activities showcased to the members of the public included James Gavin's Exercise Science at Home, involving a handgrip strength task which tested upper body strength and the sit and stand test which tested lower body strength. Dr Kevin McGhee senior lecturer in Health Sciences was also there with PHD student Rosa-Spencer Tansley to talk to people about the basics of DNA.
Researcher Tom Cousins and PHD student Orestes Manousos brought along some artefacts from marine archaeology dives, carried out to find artefacts of wrecks from WW1 and WW2 which included a cannon!
While these amazing research activities were a great way to engage members of the public with the Festival of Learning, there was also some time for a very special friend of ours to make an appearance, yes, wait for it………….Professor Puzzles, the Festival of Learning's best friend made an appearance at the Christmas markets and absolutely wowed members of the public with some of his smooth dance moves and gave them photos which they will remember for a long time. We have decided to spoil you by uploading some of the photos from Professor Puzzles walk around the Christmas markets below.
With the huge success of the Christmas markets, the Festival of Learning on Tour will return again in the summer, for more details about this, email Naomi Kay on nkay@bournemouth.ac.uk
Don't forget that the deadline to submit an event for the Festival of Learning 2015 is 12 noon on Friday 19th December, fast approaching, so don't miss out on the opportunity to be a part of the Festival, click here if you would like to submit an event.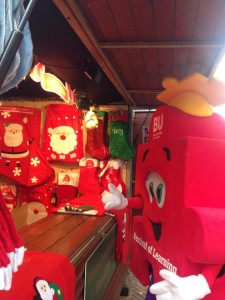 Professor Puzzles at the market!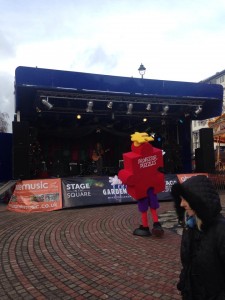 Professor Puzzles showing of some smooth moves!