Researchers and members of the public alike love a good, classic debate – so why not hold your event in this format?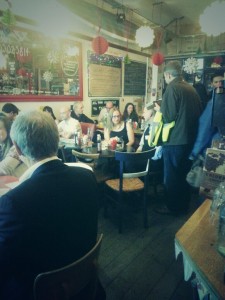 Hosting a public debate is an excellent way of convincing others of your argument and helping to find a common ground. A public debate stimulates new intellectual ideas and could be the answer to finding a solution for a communal problem. So effectively this could help you find answers for your research? Or it could even give you new research ideas!
Café Scientifique is the perfect example for a successful public debate event. At Café Scientifique we have a 35-40 minute presentation by a guest speaker followed by a 20 minute debate – although, this usually goes on for much longer! Differences in opinions can challenge people's perceptions. A public debate is worth doing, if you love winning!
You can see how much the public love a debate, here on our YouTube channel.
Please remember that the open call for proposals closes on 19th December at 12 noon! If you wish to put forward an idea, please contact Naomi Kay as soon as possible!