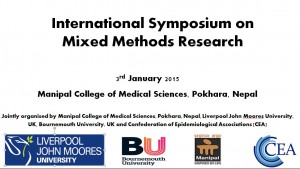 On 3 January 2015, a day-long symposium dedicated to research capacity building in Nepal will feature mixed-methods research in health and health care.  The event is jointly organised by Manipal College of Medical Sciences, Pokhara, Nepal, two UK universities, namely Bournemouth University (BU) and Liverpool John Moores University (LJMU), and the Confederation of Epidemiological Associations (CEA).   The International Symposium on Mixed-Methods Research will promote the use of mixed-methods research designs. International experts from various health and social disciplines will come together to present and discuss best practices in the field.
"We have been working for more than ten years to help Nepal build capacity in health research" said Edwin van Teijlingen, one of the symposium presenters and BU Reproductive Health Research Professor. "The symposium is a great opportunity to learn about mixed-methods research and its potential for research into public health, care provision or health promotion."
Presenters include Dr. Rose Khatri from LJMU will introduce the background to qualitative and quantitative research.  Dr. Bibha Simkhada will illustrate the use of mixed-methods as applied in a largely qualitative maternity care study in rural Nepal.  Dr. Brijesh Sathian, editor of the Nepal Journal of Epidemiology, will outline key quantitative issues in a mixed-methods approach. Dr. Padam Simkhada, Professor at Liverpool John Moores University will discuss some of the intricacies of mixed-methods approaches.
Dr. Sharada Prasad Wasti, Monitoring and Evaluation Advisor in Family Health International (FHI 360) Nepal on an HIV/AIDS (a programme funded project by the World Bank) will present some of the practical issues of working in the field of HIV research using mixed methods.  BU professor Edwin van Teijlingen will discuss some of the more theoretical issues and offer some advice on writing up and publishing mixed-methods studies.
The symposium presenters have all conducted health research in Nepal and between them have more than one hundred scientific papers and book chapters on the country's state of health and health care system.  Both Prof. Padam Simkhada and Dr. Bibha Simkhada are Visiting Faculty at BU.
Prof. Edwin van Teijlingen
CMMPH