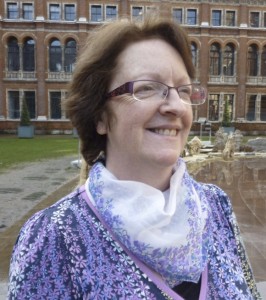 Hello! I'm the co-ordinator for the Fusion Investment Fund which was designed to support Fusion by funding 'pump-priming' initiatives. There are two different strands for staff – Staff Mobility & Networking and Co-creation & Co-production. I also deal with two externally funded programmes – Erasmus and Santander, which both support overseas staff travel for purposes such as teaching, training and networking.
You can find out more about the Fusion Investment Fund here and do get in touch if you have any queries or want more information. The next round is likely to be opening in the Spring.
It's a fascinating job – I'm involved in all stages of the process – it includes providing information about the funds, helping people through the application process and supporting the pre-screen and committee review processes. After the awards are made, I liaise with the PIs to set up their budgets and get their project started, I monitor the project's progress, deal with any requests for changes to the project or its budget, carry out budget audits and ensure that each PI carries out an effective evaluation at the end of their project. We currently have around 130 live projects utilising about £1.3m of funding.
My main aim is to ensure that high quality projects obtain funding and then that the funding is used in the most effective way to obtain the best results for BU as a whole. Simples!!
I've been at BU since 2011, firstly in Student Administration Services and more recently in Applied Sciences (as it was then) in Programmes Admin and student support. I really enjoyed being part of a School and one of the attractions of this role for me was the continued contact with academic staff and their research.
My pre-BU experience is mostly in Finance, including ten years in Credit Management and three as a Budget Analyst. I've also got some experience of applying for grants in the charity sector, all of which gives me a useful background for this job.
Outside of work I enjoy crafts, especially sewing and knitting, I love cooking (and luckily my husband loves eating!) and we both enjoy walking and photography. We bought a house at the end of last year and I am presently perfecting my skills at crossing a mud slide to get to my front door – my husband is confident it will be a garden one day! I have two grown children and in fact our daughter came to university here, loved it so much she stayed and that's how we ended up moving to Dorset four years ago.
So – if you are thinking of putting in a bid in the next round, or want to know more about how the fund might support your work, do get in touch. One opportunity would be the next RKEO coffee morning on 4th Feb – it'll be 9.30 to 10.30 in the RKEO office on the 4th floor of Melbury House.