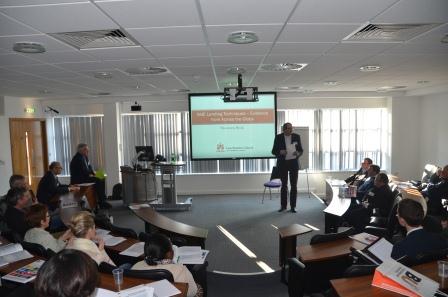 A conference at Bournemouth University explored some of the issues around finance and lending to Small and Medium-sized Enterprises (SMEs).
The two-day Entrepreneurship and Access to Finance for SMEs conference brought together speakers and delegates from industry, academia and government agencies to discuss the most pertinent issues of SME finance and credit risk.
A number of breakout sessions and workshops explored key issues around SME finance, borrowing and policy, while keynote speeches were also given by leading names in the finance and lending world – Thortsen Beck, from City University London, and Josh Ryan-Collins, of the New Economics Foundation.
The event marked the start of a project which will be delivered after a successful bid to the Economic and Social Research Council (ESRC), the UK's leading research and training agency addressing economic and social concerns.
Opening the conference, BU's Professor Jens Holscher, Principal Investigator for the project, said: "This is the start of a two-year project and the first of seven meetings.
"This is 'blue sky' and so we wanted to exchange ideas and even get new things we should be looking at."
He added: "A key long term and strategic position of BU is to become known for regional economic development and SMEs are key, so we see this project as part of a bigger vision of regional economic development."
The project team consists of Professor Jens Hölscher and Co-Investigators Professor Andrew Mullineux and Professor Dean Patton, with colleagues from the University of Brighton, Aston University and the University of Nottingham.
The project team will also collaborate with Professor Andreas Horsch and his colleagues from the Technical University of Freiberg in Germany, who will contribute on access to finance from Germany.