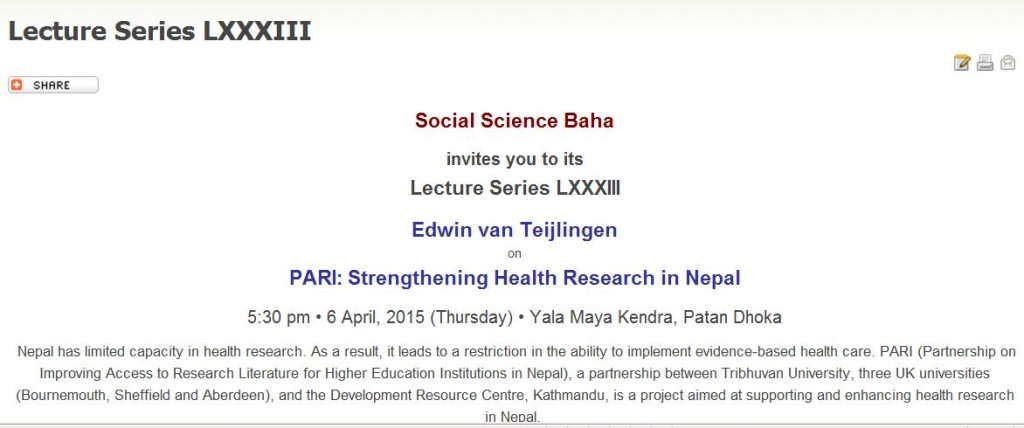 On 6th April, Easter Monday, professor Edwin van Teijlingen will present the process and selected findings of research capacity building work conducted in Nepal.  The invited lecture at Social Science Baha in Kathmandu was originally planned for early January, but unfortunately had to be cancelled at the last moment due to a national strike in Nepal.   
PARI (Partnership on improving Access to Research Literature for Higher Education Institutions in Nepal) refers to a project to support and enhance health research in Nepal; a partnership between Tribhuvan University, three UK universities (including Bournemouth University), and the Development Resource Centre (Nepal).  The British Council and DFID (UK) funded PARI to help build research capacity over a three-year period. 
Nepal has limited capacity in health research, which restricts ability to implement evidence-based health care.   PARI aimed to move university lecturers away from textbook teaching and make them more critical of the academic literature available on the Internet. 
PARI workshops delivered to Nepal universities introduce the foundations of evidence-based practice and outline key electronic databases of health care and health service literature available to Nepalese academics.  These workshops were informed by: (1) a curriculum review of all health-related courses at the major universities in Nepal; and (2) a needs assessment with lecturers, librarians and students of the major universities.
Key message included that We need to move away from textbook teaching in health care and teach health-care discipline students how to find the most appropriate evidence-based treatment for each patient.

The PARI team:
Ram Sharan Pathak,Tribhuvan University,Nepal
Padam Simkhada, Liverpool John Moores University, UK.
Bhimsen Devkota, Development ResourceCentre,Nepal
Edwin van Teijlingen,Bournemouth University,UK
Julie Bruce,University of Warwick, UK
Pramod Regmi, Development Resource Centre, Nepal
Amudha Poobalan, University of Aberdeen, UK
Trilochan Pokharel, Nepal Administrative Staff College, Kathmandu Nepal
The work has resulted in two academic publications:
Simkhada, P., van Teijlingen, E., Devkota, B., Pathak, R.S., Sathian, B. (2014) Accessing research literature: A mixed-method study of academics in Higher Education Institutions in Nepal, Nepal Journal of Epidemiology 4(4): 405-14. http://www.nepjol.info/index.php/NJE/article/view/11375
Simkhada, P., van Teijlingen, E., Pokharel, T., Devkota, B., Pathak, R.S. (2013) Research Methods Coverage in Medical & Health Science Curricula in Nepal, Nepal Journal Epidemiology 3(3): 253-258. www.nepjol.info/index.php/NJE/article/view/9185