Dr Michelle Heward represented Bournemouth University Dementia Institute (BUDI) at the Dementia Hustings event in London on 13th April 2015, hosted by Dementia Action Alliance (DAA) and Alzheimer's Society. In the lead up to the General Election, this event provided members and supporters of the DAA with an opportunity to hear from representatives of the main political parties about their plans for dementia in the next parliament.
Each representative was asked to give an overview of their vision for dementia care over next 5 years, which was followed by a panel discussion lead with questions from the audience. The event was chaired by Broadcaster Tania Bryar and the panel was formed of: Rt. Hon. Jeremy Hunt, Conservative; Rt. Hon. Paul Burstow, Liberal Democrats; and Lord Hunt of Kings Heath, Labour.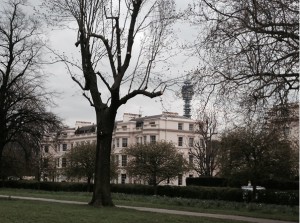 A number of key issues were debated including: joining up health and social care budgets; implementing a community care model that moves away from existing General Practitioner/Hospital model's of care developed in the 1940's; investing in further research to map what effective care looks like and to cultivate disease modifying/cure drugs; developing national and local dementia strategies; and increasing psychological and emotional support for carers.
Despite different approaches, there was consensus amongst all three parties on the importance of dementia and the need for government investment to initiate change.