Posted on behalf of BU students!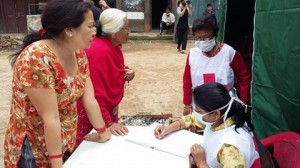 Appeal for helping Nepal earthquake survivors
Nepal was stuck by earthquake of 7.8 RS magnitude at 11:56 am local time on 25th April 2015. There have been more than one hundred aftershocks since.  Many people are traumatised and lack proper care in the aftermath of the earthquake.  This natural disaster has created havoc on a massive scale. To make conditions worse there was rain pouring down in parts of Nepal and there now is a risk of the spread of epidemic diseases, thefts, and other crime. Until now the death toll has reached almost 8,000 and thousands have been rendered homeless and destitute. According to the Prime Minister of Nepal Sushil Koirala, the death toll could rise as high as 10,000. We are planning to raise fund for the immediate relief  and rebuilding process of Nepal.
The UK Nepal Friendship Society and students from BU are organising a fund-raising event for earthquake victims of Nepal on 12th May, Tuesday from 4pm until 7 pm in Bournemouth Square (western side). Please spread this information to all interested! Ask them to visit us on Tuesday and help Nepal at this time of crisis. Your donations will help to rebuild the nation and help to provide necessary amenities to people who have lost their home and family. Any amount will be greatly appreciated, but please give as much as you can. Nepal has been awaiting this disaster for many years now, and according to the cycle of major earthquakes in the country the national catastrophe that has taken place could have happened sooner (the last took place in 1934). Your donation via the UKNFS will be provided to disaster victims through official/reliable Government of Nepal and Embassy of Nepal in London recommendedchannels.
Please support Nepal at this time of national tragedy!
–xx–
BU has several undergraduate and postgraduate students from Nepal.  Moreover, several BU students conduct studies or do their electives in Nepal.
Prof. Edwin van Teijlingen
CMMPH