Shortly after the earthquake in Nepal I posted on the BU Research blog as we have a long-standing presence in Nepal.  We have been working there for nearly ten years, conducting research largely around community-based interventions.  Several Bournemouth University colleagues (and many based elsewhere) have indicated that they have donated (or will do so) to our intervention partner, the UK-based Buddhist charity Green Tara Trust.  Thank you everyone for this generous support.  It has brought tents and food to rural communities in an area where we have been working for eight years.  The support also has had an incredible effect on our Nepalese team, raising their spirit and encouraging them in their relief efforts.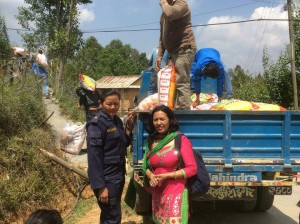 Donations to Green Tara Trust from individuals have just reached £35,000.  As there is always the question how best to support victims in such disasters, I would like to show how supporting a small existing local organisations has direct benefits.  Green Tara staff in Nepal supplied medicines, blankets and basic food supplies such as rice, lentils and cooking oil for a period of one month to 130 of the poorest families in in the hills in and around Pharping within days after the earthquake when the after-shocks were still going on.  Please, note the guys carrying huge sacks of rice up the mountain at the left hand side of the lorry bringing the Green Tara relief.  Loads of places in the affected rural areas can only be reached by foot making the relief effort more difficult.
As we have been working with women's groups in the community for years Green Tara staff know who the poorest people and where to find them.  In addition, they provided tents to 200 families who have lost their homes.  One very local solution (rather than flying in tents from the UK) was purchasing the tents elsewhere in Nepal.  As we have a second field site in a part that is hardly affected by the earthquake near the Indian border, staff there bought hundreds of tents covers, put them on a bus to Kathmandu where local Green Tara staff picked them up and took them rural areas in the hills near Pharping.
Government-controlled health posts in rural Nepal often run out of medical supplies even before the earthquake.  Therefore, Green Tara Nepal donated several boxes of essential medicines to two health posts in the area in case of outbreaks of infections, such as diarrhea or respiratory tract infections.  Most of the time I would complain about the fact that you can buy just about any kind of medicine under sun over the counter in pharmacies shops in Nepal, but on this occasion is was very helpful.
Thank you again for keeping those affected by the earthquake in your thoughts. You can donate to Green Tara!
Prof. Edwin van Teijlingen
CMMPH