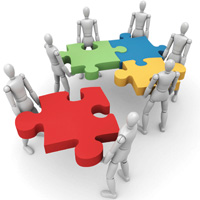 Join us for an Interdisciplinary Research Week Lunchbyte session and learn about effective interdisciplinary research writing.
Date : 13th May 2015 (Wednesday)
Time : 12.00 – 13.00 (presentation); 13:00 – 13:30 (lunch)
Venue : S217, Studland House, Lansdowne Campus
In this lunchbyte session, Professor Vanora Hundley and Professor Edwin van Teijlingen from the Faculty of Health and Social Sciences; and Dr. Anne Luce from the Faculty of Media and Communication will be sharing their years of experience in writing about research across disciplines as varied as media, sociology, midwifery, health economics, medicine and public health.
Interdisciplinary or multidisciplinary research has been slowly growing in importance over the past decades, but has recently become more fashionable since many of the high scoring impact case studies in REF2014 involved a number of disciplines. However, interdisciplinary writing is not always as straightforward as it may seem. In this lunchbyte session, the presenters will draw on many years (in some cases decades) of experience working across disciplines and they will share what works and what has been more challenging.
Come and join us in this session and afterwards, there will be opportunities to have informal discussions with the presenters while having a bite to eat.
To ensure that we place the right catering order, please get in touch with Staff Development to book your place.
Photo – https://sites.google.com/site/uswatunkhairah2412/showcase/domain1/learning-journal