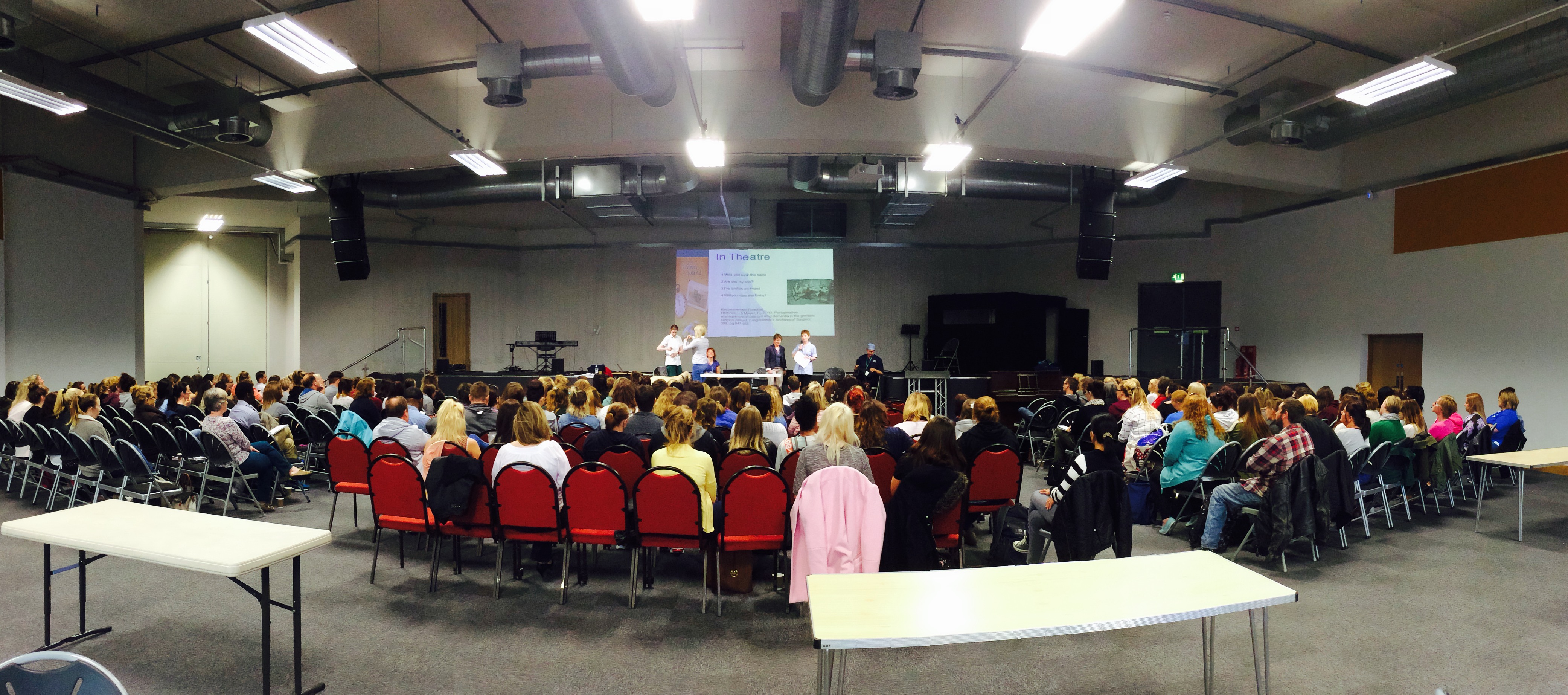 Last Friday we delivered the second dementia themed study day for the undergraduate students in the Faculty of Health and Social Sciences. In total about 500 students attended over the 2 days. Students from adult nursing, mental health nursing, physiotherapy, occupational therapy, social worker, nutritional students, Operating Department Practitioners attended.
The aim of the day was for the students to gain an insight into the lived experience of dementia and see the person beyond the diagnosis. The humanising values framework underpins the undergraduate courses and the students were encouraged to consider how they can deliver humanised care and avoid de-humanised care, when caring for people with dementia.
There were a range of sessions and delivery styles that engaged the students throughout the day. A carer spoke with compassion about how she looks after her husband who has Alzheimer's, the students felt this insight would encourage then to work more closely with family members. Throughout the day many speakers showed films of people with dementia talking about their experiences, the students feel as a result of seeing these they will take more time to hear the voice of the person they are looking after. Working in pairs the students shared an aspect of their life story with each other. By doing this they were able to consider the value of individual life history in supporting the person with dementia.
There were further sessions sharing some of the research the faculty are undertaking with people with dementia. For example Dr Jane Murphy discussed her work around nutrition and offered some very practical tips that the students can take to practice to assist a person with dementia with their diet. Dr Michelle Heward from BUDI shared some of the innovative work being undertaken by this team. The day concluded with a presentation by the Alzheimer's society, very timely in light of this being Dementia Awareness week.
One of the highlights for many students was a role play by five different health care professionals (Dr Bethan Collins,(OT), Carol Clark and Debbie Neal, (physio), Sheeran Zsigo and  Margarete Parrish (Social workers), Lesley Elcock and John Tarrant (ODP), Michele Board (Nurse)), who discussed their individual roles when caring for a person with dementia. This emphasised to the students the importance of collaboration when caring for a person with dementia.  Health and social care is too often fragmented, with services based on professional and institutional boundaries when it should be co-ordinated around the needs of patients. Following the Care Act 2014 a duty was placed on local authorities to promote the integration of care and support services with health services.  The role play demonstrated to the students the importance of integrated care and the interprofessional team working (and playing) together!
There were many positive comments from students including this one from an adult nursing student,
"Just wanted to say a huge thank you for today. Personally I feel this course has started with a bang and it's been a shock. Todays reminded me why I'm doing this and its made feel more determined to keep working hard. So thank you for that".
Michele Board, Senior Lecturer Nursing Older People.