Dr Carol Clark and Dr Judith Chapman visited INTL-International University, Nilai, Kuala Lumpur, Malaysia following a visit at the end of 2014 by Professor Tim McIntyre-Batty. The faculty of Health currently consists of one programme – Physiotherapy BSc (Hons). Colleagues at INTL-IU wish to expand their provision of health science programmes and their research profile. Carol and Judith met with some of the faculty including Dato' Professor Rahmah Mohamed – Dean of the Faculty of Health and VC of INTL-IU, Professor Narasimman Swaminathan – Head of Research and Praveen Surendran – Head of Physiotherapy Programme. Primarily to discuss similar research interests, physiotherapy programmes in Malaysia and the UK and provision of additional health related programmes for example; public health, nutrition and paramedic science. We found we had a lot of common ground and put together a paper setting out ideas relating to future collaborative work.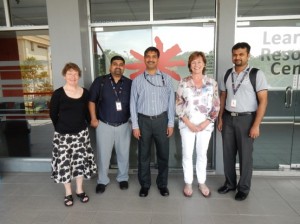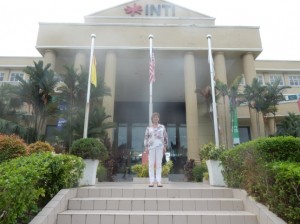 Carol and Judith joined Dato' Professor Rahmah Mohamed the Dean of the Faculty of Health and VC of INTL-IU and colleagues from the faculty for an evening of entertainment. We were introduced to Malaysian culture in the form of dancing and cuisine and were made to feel very welcome.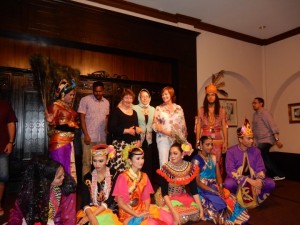 Carol and Judith facilitated a work shop highlighting the importance of Physical activity in the prevention of non-communicable diseases including Metabolic Syndrome. Non-communicable diseases account for over two thirds of the global health burden in relation to mortality and morbidity. The non-communicable diseases include: diabetes, heart and lung diseases, stroke, some cancers and dementia. In Malaysia the prevalence of diabetes is 10% and increasing while metabolic syndrome in the > 30 year olds is between 24% – 47% and ethnically dependent. With a growing elderly population and rising obesity the burden of non-communicable diseases has increased significantly in Malaysia in the last 10-15 years. The aim of the workshop was to explore how Physiotherapists might influence and engage in the promotion of physical activity through the lifespan by considering the motivators and barriers in Malaysia.
Students from two universities (INTL- IU and Ramsay Sime Darby University) attended the workshop and shared their own levels of physical activity and explored ideas relating to increasing physical activity engagement amongst different groups in Malaysia in the future.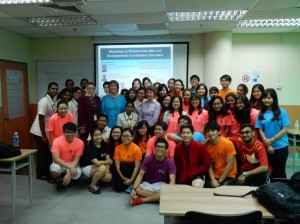 Dr Carol Clark, Dr Judith Chapman (Faculty of Health and Social Sciences, BU) Professor Narasimman Swaminathan and Praveen Surendran (Faculty of Health, INTI-IU)