By Professor Ann Brooks, Professor of Sociology
The 5th International and Interdisciplinary Conference on Emotional Geographies hosted by The University of Edinburgh was set against the stunning backdrop of Arthur's Seat and Salisbury Crags at The University of Edinburgh's John McIntyre's Conference Centre.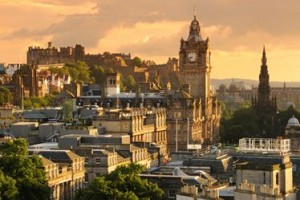 The conference attracted 250 international academics from a wide range of disciplines including sociology, geography, literature, cultural studies, art, archeology, anthropology, urban studies, gender studies, tourism and many more. Delegates came from US, Canada, Australia, Singapore, Hong Kong, Denmark, Spain, Germany, the Netherlands, Sweden, Brazil among others. The conference chair was Professor Liz Bondi from the University of Edinburgh and teh conference was supported by Elsevier publishers, who publish the conference journal Emotion, Space and Society and hosted a superb pre-conference welcome and reception.
The Conference streams reflected an international and interdisciplinary research profile combining theoretical and applied work as well as implications for policy debates at the local and national level. For example in one of the Conference Themes: Persisting Selves: the Practices and Politics of Keeping Going and Carry On (divided into I Selves; II Time and III Recovering) papers included: 'How does "a day at a time" work? Patience, Persistence and Proaction in Everyday Sustained Alcoholic.'(Julia Mills, University of Manchester) and 'Persistence, Insistence and Endurance in Pregnancy Loss Grief.' (Abigail McNiven, University of Oxford).' A Conference Theme: which showcased a wide range of doctoral, postdoc and Early Career Researchers' work was Childhood Youth and Intergenerationality: Relational Geographies of Emotions /Affects, Childhood and Youth, papers included: 'The Emotional Geographies of Children of Prisoners'(Helene Oldrup, The Danish National Centre for Social Research) and 'Slovenia's Izbrisani ('Erased') Youth, Transitional Spaces and Radical Ethical Acts' (Stuart Aitken, San Diego State University). Other Conference Themes included Creative Spaces, Emotions in Fieldwork, Urban Life in Theory and Practice, Time and Space, Liminal Spaces, and Connecting across Space: Tourism.
I presented a paper in the Urban Life in Theory and Practice stream as one of three papers discussing the impact of the urban environment and landscape on emotional well-being. My paper looked at the impact of gentrification in cities in the US including San Francisco and New York City, where long term city dwellers and migrants are being forced out of their homes because of the gentrification of traditionally ethnic parts of the cities by corporate investors and wealthy foreigners. I also explore the growth of the Occupy Movement as a collective expression of anger at the increasing disparities of wealth in US cities. This work is part of the work undertaken for a forthcoming book on Emotions and Cities.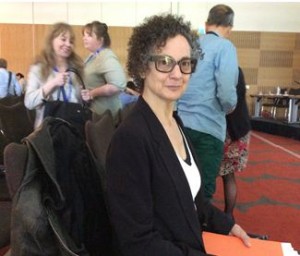 One of the high points of the conference was the presentation of one of three keynotes –Professor Lauren Berlant, George M. Pullman Distinguished Service Professor in the Department of English Language and Literature, the University of Chicago. http://english.uchicago.edu/faculty/berlant
Berlant is a foremost contributor to feminist and literary discourse in the US and it is a unique opportunity to have her appear at a UK conference. She is author of a number of outstanding books including: Cruel Optimism (2011), The Female Complaint: The Unfinished Business of Sentimentality in American Culture (2009), Desire/Love (2013), Our Monica, Ourselves: Clinton and the Affairs of State (2001), Intimacy (2000), The Queen of America Goes to Washington City: Essays on Sex and Citizenship (1997).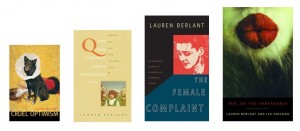 Berlant describes her work as follows:
My work has focused on politics, emotion and intimacy in the U.S. nineteenth and twentieth centuries – now the twenty-first in particular, in relation to citizenship, to informal and normative modes of social belonging, and to affective attachments and fantasies that take shape through ordinary practices. These scenes zone and disturb the relations between public and private, white and non-white, straight and non-straight, and /or citizen and foreigner –along with providing settings for other, inventive kinds of social bond through which people imagine and practice world- making.
Presenting her keynote address: 'On being in Life without Wanting the World: Living in Ellipsis', Berlant captured the imagination of delegates with an erudite and amusing presentation of concepts around emotion and affect. Berlant sought to define a range of new 'affective' states for addressing sex, democracy and belonging. Drawing on one of the classical social theorist Georg Simmel's work on Metropolis and Mental Life, Berlant explored the concept of 'disassociation'. Her ability to communicate with a wide range of academics using complex and imaginative frameworks of analysis is inspiring both on pedagogical and substantive issues.
Other keynotes included Professor Jane Speedy, University of Bristol and Associate Professor Joyce Davidson, Queens University, Canada.
This was a conference which not only provided outstanding networking opportunities and an opportunity to develop research synergies with international and national delegates but in addition it was a great opportunity for me to reflect on a chapter I have just completed on Lauren Berlant's work for my upcoming book Genealogies of Emotion, Intimacies and Desire (Routledge, New York 2015). More food for thought from this exceptional academic.
This was a conference to inspire the intellect, engage the senses, to enrich international networking and to light the way for doctoral, postdoctoral and Early Career Researchers on the best of interdisciplinary research and to showcase this on the world stage.