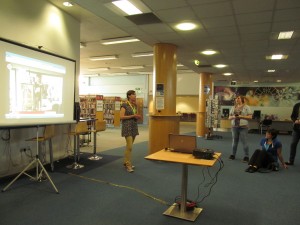 The Big Issue Online Journalism training programme finished off last week with a gallery exhibition of the participants' work, open to the public. The event which took place in Poole Library featured articles and photos produced by the trainees during the 6-week course. The course, organised by the Big Issue, in collaboration with communications agency Poached Creative and Bournemouth University, targeted as participants Big Issue sellers or unemployed people with an interest in writing or photography. Its main aim was to equip the trainees with basic journalistic skills that would help them find their own public voice and offer a pathway to future employment.
BU researchers Dr Ann Luce, Dr Dan Jackson and Dr Einar Thorsen were approached by the Big Issue to deliver part of the training, after their successful collaboration with Access Dorset – a charity for disabled people – on a similar project that aimed at empowering people with disabilities through citizen journalism.
The Big Issue Online Journalism included lessons on news and features writing and photography, with a focus on interviewing and how to connect to the audience, as well as promoting work through social media. Participants also had the opportunity to put their newly adopted skills to practice by creating photo-essays and covering the Wheels Festival in Bournemouth, and individual choices for stories included such on the Dino Exhibition in Christchurch and a feature article about Chaplin's bar in Boscombe. Works by all of the participants were published on the project's blog. Guest talks were also given, including one by the editor of Dorset Life magazine.
One trainee said: "Training like this is not available anywhere. This is really good because it's hands on as well as the written part of it. I've learnt a hell of a lot in a short period of time."
Another participant also praised the course: "I'm stepping back into the right zone of getting back to work. Freelancing is difficult. This is good for networking, getting back with people, seeing how different people work and getting good feelings about yourself."
Many said the training had given them a clearer idea of what topics they want to implement in their work, and a better understanding of what editors are looking for in order to get their work published in the future.
All of the participants had an artistic background and were engaged with writing, photography, music or painting – a hobby for some, a means for a living for others.
Dr Dan Jackson and Dr Einar Thorsen – assisted by students Daniel Weissman, Naomi Mihara and Stefani Tasheva – also worked on evaluating the project through interviewing the participants prior to their training as well as after to learn about their background, their expectations of the course and their experiences throughout the six weeks, and in what ways it was beneficial to them. The data from these interviews will be disseminated in upcoming publications.