Announced by the European Commission's DG Research & Innovation, at the 23rd EU-Japan Summit in Tokyo, the EU and Japan agreed to deepen their cooperation on Research and Innovation (R&I), based on a joint vision.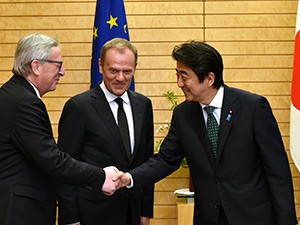 Carlos Moedas, Commissioner for Research, Science and Innovation, said: "Europe and Japan must tackle many of the same challenges such as energy security, ageing populations or access to critical materials. So it's only natural that we also work together closely to find solutions to these challenges. The joint vision endorsed today will take our cooperation to the next level."
The agreement will build on the strong research ties in areas like ICT and aeronautics and strengthen collaborations in health and medical research, environment, energy and physics. The partners will also set up a joint funding mechanism that will make it easier to finance common R&I projects and collaborate more closely on policy aspects, like Open Science. In addition, an agreement to stimulate scientific exchanges has also been signed between the Japan Society for the Promotion of Science (JSPS) and the European Research Council (ERC).
Read more about their co-operation for 5G mobile communications and an overview of the development of EU-Japan relations.