Yesterday (July 9th) saw the launch of the report based on a study of the Nepali Community in the UK on Equality in Health & Social Care.  The joint project between the UKNFS (UK-Nepal Friendship Society) and Bournemouth University was funded by the National Lottery and supported by The Embassy of Nepal in London, the  Non Residential Nepali Association [NRNA UK], and NHS England.   The presentation of the report ook place at the NRNA UK head office in Woolwich.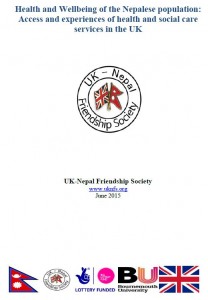 The Chief Guest of Honour at our launch was Mr Sushil Thapa from the Embassy of Nepal, representing His Excellency Mr Tej Bahadur Chhetri, Acting Ambassador of Nepal to the UK. The chief guest speaker was Dr. Habib Naqvi, NHS England Head of Equality, who highlighted the Report and its recommendations.  The Principal Investigator Dr. Bibha Simkhada, who is also Visiting Faculty in BU's Faculty of Health & Social Sciences, presented the key findings to the audience.  Prof. Edwin van Teijlingen gave a short presentation settign this report in the wider portfolio of resarch related to Nepal conducted at BU.  Mr. Alan Mercel-Sanca, Chairperson of UKNFS commented:
'We particularly appreciate Dr Bibha Simkhada and Dr Rajeeb Kumar Sah's dedication and high quality research in the Nepali community. We would also like to thank the Big Lottery Fund for making this ground-breaking piece of work possible, and the NHS England Equality and Health Inequalities team for their great interest in the value of the research. The Report offers a unique opportunity for our evolving NHS and the Ministry of Health to better understand and more effectively meet the needs and hear the Voice of the Nepali community – it clearly has direct relevance to other South Asian and broader Black & Minority Ethnic communities using and seeking to access an NHS that is equitable and effective.'
The Report's Executive Summary can be found here! 
Prof. Edwin van Teijlingen
CMMPH