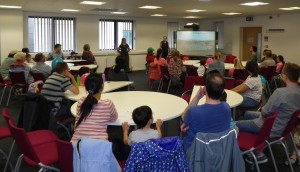 On Sunday Anita Diaz and Gitte Kragh joined with Michelle Brown and Darren Cook from the National Trust (NT) to run a joint BU-NT FoL workshop on the special species of Studland. We introduced our 70 guests to the amazing NT Cyril Diver project where Citizen Scientists and BU staff, BSc, MSc and PhD students have worked together to repeat a classic 1930's survey of all the wildlife of Studland.
Our guests learnt how these surveys help conservation by helping us understand how species respond to environmental change over time. Then we invited our guest to participate in lots of face-to-face opportunities to meet up-close some of the wonderful wildlife!
Guests stroked snakes, stared spiders in their (8) eyes and squeezed spongy sphagnum mosses as they learnt about their ecology and how we can help conserve these and other wildlife.
If you would like to volunteer on the Cyril Diver project, or just find out more, then please contact Michelle on
Michelle.Brown1@nationaltrust.org.uk
No experience is needed as there are experts on hand and it's a great way to learn and contribute to conservation while having fun!