We reported recently on this blog that work on our fusion-funded co-creation and co-production project on fish population restoration was progressing strongly in July. Yesterday, we held our workshop to disseminate our initial findings and discuss their implications with a wide range of external stakeholders.
Held at the Environment Agency's National Fisheries Technical Centre in Huntingdon, Cambridgeshire, the 30 participants included representatives from the Environment Agency, Angling Trust, Rivers Trusts, Natural England and Barbel Society. We presented our very recent and on-going data analyses on the genetic structure of fish populations in the UK that are being completed at the moment by our FiF funded project students at the University of Insubria, Italy. Their work is proving to be fascinating, revealing unexpectedly strong genetic patterns at the river catchment level that we suggest require preserving in an era where habitat loss and fish stocking activities are having major impacts on the genetic integrity of many fish populations.
The workshop also included presentations from other relevant BU projects and by a number of the external participants, and concluded with open discussions on how our work could be driven forward through increased utilization of co-creation and co-production opportunities across the different stakeholder groups.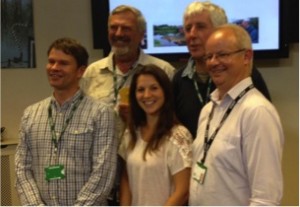 Some workshop participants: (clockwise, starting front left) Rob Britton (BU), Pete Reading (Barbel Society), Martin Salter (Angling Trust), Nigel Hewlett (Environment Agency) and Karen Twine (Environment Agency).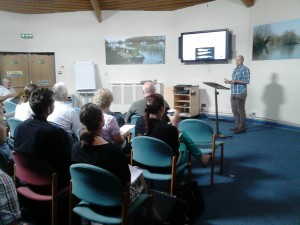 Adrian Pinder of BU presenting work on the importance of larval fish in understanding fish population restoration.
Overall, the workshop was a fantastic opportunity to showcase our Fusion funded work and has provided us with great feedback from a range of end users on how to build on this excellent Fusion investment Fund project.