In December 2014 we received funding from the Fusion Investment Fund for a project which we hoped would allow us to strengthen strategic partnerships with local/national engineering companies (see previous posting). We are happy to report that the project has been a success.
Over the past few months we have been working with the Missions Systems division of Cobham PLC, based in Wimborne, and four of their employees, who are also students on our innovative Flexible Learning MEng (Hons) Engineering degree, to develop a Professional Registration Mentoring Scheme. Cobham was an ideal company to work with as it is the third largest aerospace and defence employer in the UK with over 12000 employees globally and 500 employees at the Wimborne site alone.
The main outcome of the project has been the development of the structure of the scheme, scheme material and promotional material.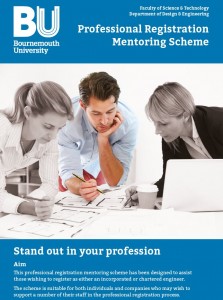 In addition, a Festival of Learning lecture was developed entitled: 'what professional engineers do and how to become one'. The lecture was attended by a mix of children and their parents who wished to find out more about embarking on engineering as a career and engineering employees from a range of industries who wished to find out more about how to develop themselves professionally. Promotional flyers for the professional registration mentoring scheme were provided to the engineering employees to take back to their companies. It is hoped interest from employers in the scheme will be generated from the event.
The scheme has also been integrated into the flexible learning engineering degree curriculum through the Level 6 unit Advanced Engineering and Level 7 unit MEng Project. Students studying on the degree will be mentored for up to a year after graduation to provide professional development opportunities by achieving professional registration. Thus, preparing the individual with key skills for the workplace and creating sought after individuals who will be recognised as the future leaders in their field.
Finally, a strong link has been developed with Cobham which is expected to carry on after this project. The links and reputation of BU developed through this project will be used to build the relationship with Cobham to ensure the apprentices progress to BU to complete their academic studies on the FdEng Engineering and MEng Engineering degrees.
A future goal, once established regionally, is to secure recognition for the scheme from an appropriate professional body. This will then provide the credibility to expand the scheme nationally
Please do feel free to get in touch with us if you would like further information.
Dr Phil Sewell –  (Principal Investigator) – Acting Head of Design and Engineering Department/Associate Professor – psewell@bournemouth.ac.uk
Dr Tania Humphries-Smith – Associate Professor – thumphri@bournemouth.ac.uk