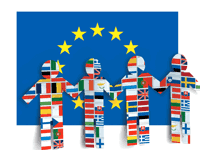 The DG Research and Innovation has produced a booklet giving statistical information relating to Horizon 2020 bidding activity up to 1st December 2014.
Highlights include:
The UK is leading the way in number of applications submitted, but when based on per capita, the UK is 16th. Cyprus tops the per capita applications' rate
Applications from countries outside the EU have reduced when compared with FP7, particularly those from China and Russia. The USA is still the main overseas applicant with rates very similar in Horizon 2020 and FP7
The average success rate is 14%
When it comes to success, although the UK has the highest number of applications, the UK is placed 10th, with an average success rate of around 15%. France is around 17%
Universities are submitting the most number of applications, followed by the private sector
Germany has increased its share of total Horizon 2020 funding against FP7. The UK share has dropped but is still ranked 2nd
SME participation has increased in Horizon 2020
Around 40% of applicants did not apply under FP7, with 80% of that being SMEs or industrial applicants – the remaining 20% of newcomers includes universities and other research organisation
Over half of the expert evaluators in Horizon 2020 had not participated previously
The DG Research and Innovation website has a wealth of information about research activities:
Policy – read this to find out why certain research is being supported and the work of the European Research Area
Funding and Careers – find out how EU research can help your career flourish and search for funding on the Participant Portal
Success stories – what gets funded?
Themes – does your research map onto their themes?
Events – are there EU events (such as Info Days, forums to present research, conferences, training etc.) which may assist in developing your research proposal or collaborative network?
Get to know this funder so that you might form part of the next Horizon 2020 statistical review.
If you need help formulating your strategy for EU interaction, please contact Emily Cieciura or Paul Lynch – Research Facilitators: EU & International