Sophie Bushell, Dr Fiona Kelly and I represented Bournemouth University Dementia Institute (BUDI) at the 25th Annual Conference of Alzheimer Europe which took place in Ljubljana, Slovenia from 2-4 September 2015.
Sophie presented a poster showcasing her PhD research 'Researching the wellbeing of people with dementia living in long term care: Ways forward'. Fiona discussed the findings from the Dementia Pathway Redesign project in her paper 'Informing to improve: Exploring the views of people affected by dementia to develop better care pathways'. I presented a poster on the Dorset Dementia Friendly Community project evaluation and a paper on 'Fire risks and safety strategies in the home of people with dementia'.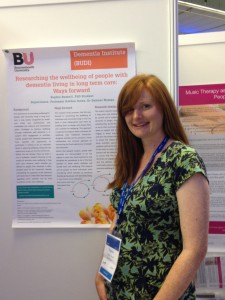 This years conference theme was 'Dementia: putting strategies and research into practice', aiming to identify how research results and research findings can be translated into concrete actions to improve the lives of people with dementia and their carers. The conference also provided an opportunity to celebrate Alzheimer Europe's 25th anniversary and to look back on the many achievements of the organisation.
Dr Michelle Heward