To support academic colleagues in depositing their research open access the BURO Team in Library and Learning Support have produced a brand new guide – Open Access and Depositing your Research.  Colleagues will find this guide particularly useful if you are…
New to depositing your full text research in BURO via BRIAN
Depositing your work as part of the Mock REF/internal review exercise
Guidance is provided in the following key areas: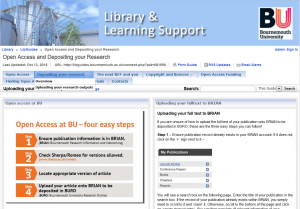 Please note: this guide is in development and more sections will soon be added. The guide will shortly appear on the deposit page in BRIAN.  The BURO Team welcome any feedback.
Please note: during this short period around the Mock REF/internal review exercise increased levels of deposit mean the BURO Editorial Team may take a little longer than usual to make your research open access and respond to any queries about your outputs. In recognition of this the online nomination form provides an option to indicate that you have submitted the your full text to BURO via BRIAN even if you are unable to provide a BURO web link for each of your outputs at the time of form completion.