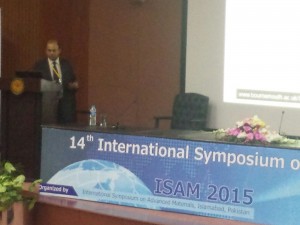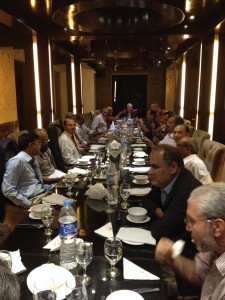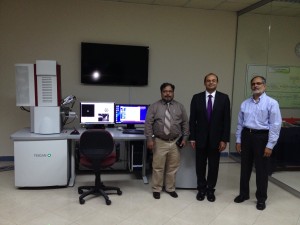 Dr Zulfiqar Khan was recently selected by invitation by the Pakistan President's Highly Qualified Professionals (HQPs) Programme, part of PPQP, managed and administered by the Ministry of Federal Education & Professional Training Government of Pakistan.
This programme funded Zulfiqar's participation in the 14th International Symposium on Advanced Materials Oct 2015 held at National Centre for Physics Islamabad as invited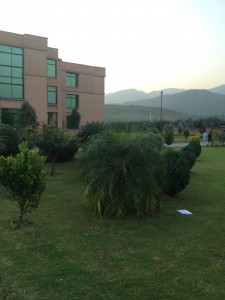 speaker and guest speaking at key universities and research institutes.
This conference is held every two years and has been successfully running for the last 28 years. This conference attended by high profile researchers from Bangladesh, China, Egypt, Germany, Japan, Jordan, Malaysia, Pakistan, Saudi Arabia, Singapore, Serbia, Turkey, UK (Bournemouth and Leeds) and US. The conference provided and excellent platform for disseminating latest research findings, exchange of ideas, networking and initiating research collaborations.
Zulfiqar presented latest findings in Surface Engineering through nano coatings (thin films 300-400 nm and up to 5 μm) incorporating corrosion. This research is conducted at the Sustainable Design Research Cluster with PGRs (Parisa Pashaei, Rizwan Bajwa and Hammad Nazir).
He also led the discussion panel on Surface Engineering & Ceramics as Panel Chair.
The Federal Minister for Planning, Development & Reform Professor Ahsan Iqbal spoke at the closing ceremony of the 14th International Conference on Advanced Materials ISAM 2015. He informed the conference delegates on the Government strategy for research & development.
This programme also included Zulfiqar's invited guest speaking at key Universities and research institutes as Institute of Space Technology, National Institute of Vacuum Science & Technology NINVST, National Centre for Physics NCP and National University of Sciences & Technology NUST. He also held meetings with key staff including DG NINVAST, Director NCP, Deans NUST Mechanical and Chemical & Manufacturing Engineering, Rector GIK (Ghulam Ishaq Khan Institute of Engineering Sciences & Technology), researchers and students.
His participation in the ISAM 2015 and invited guest speaking has provided a platform for incubating international research and education collaborations and promoting BU as an international leader in nano materials & corrosion research.