Hello!
Thank you to everyone who attended 14:Live on the 22nd of October, it was an extremely fascinating half an hour with Dr Edward Apeh .
Edward Apeh gave a valuable insight into the importance of our personal data in the cyber landscape. The legitimate and illegitimate use of our personal data is outlined along with the mechanisms to keep our personal data secure and procedures for handling circumstances when the security of our personal data is compromised.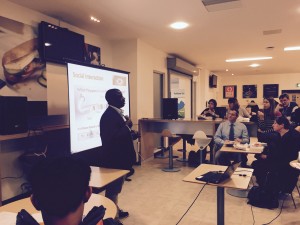 14: Live will be returning to Talbot Campus on the 17th of November and will be hosted by Professor Edwin Van Teijlingen. So look out on the Research Blog and the student portal events page for updates on when 14: Live will be returning, we look forward to seeing you all again in September were there will again be 30 x tokens for a FREE Papa Johns pizza!
Would being a speaker at 14: Live interest you? or do you just want to find out more about student engagement with research events, if so, please feel free to contact ocooke@bournemouth.ac.uk