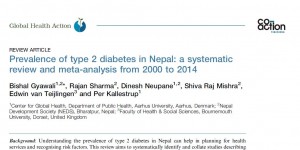 Knowing, or better, being able to estimate the prevalence of type 2 diabetes in Nepal can help recognise risk factors and plan for the necessary health services. Unlike many high-incme countries such as the UK or the Netherlands, many low-income countries like Nepal don't have a health system that can generate data to establish the prevalence and incidence of a range of diseases.  Therefore, to estimate the disease prevalence of any major disease, in this particular case Type 2 diabetes, we need to collate data from as many as possible small and medium-scale studies of a good enough quality.  Hence our systematic review identified and collated studies describing the prevalence of type 2 diabetes in Nepal [1].
We summarised their findings, and to explored selected factors that may influence prevalence estimates.  This is, to our knowledge, the first study to systematically evaluate the literature of prevalence of type 2 diabetes in Nepal. Results showed that type 2 diabetes is a burden in Nepal, suggesting this is a possible public health area which needs more preventive interventions as well as efforts to control the disease.  The paper is a collaboration between researchers based in Nepal, Denmark, Australia and the UK.
The paper is Open Access so freely available any where in the world.
Prof. Edwin van Teijlingen
CMMPH
Reference:
Gyawali, B., Neupane, D., Sharma, R., Mishra, S.R., van Teijlingen, E., Kallestrup, P. (2015) Prevalence of type 2 diabetes in Nepal: a systematic review and meta-analysis from 2000 to 2014, Global Health Action 8: 29088 globalhealthaction.net/index.php/gha/article/view/29088/pdf_189