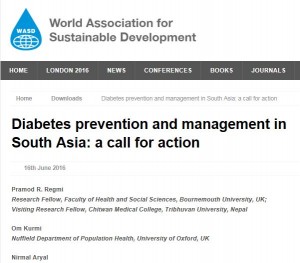 Today BU staff and post-graduate students published our latest diabetes paper.  In the International Journal of Food, Nutrition and Public Health (IJFNPH) publish by the World Association for Sustainable Development (WASD) you'll find 'Diabetes prevention and management in South Asia: a call for action'.
The lead BU author is Dr. Pramod Regmi. he is joint by Faculty of Health & Social Sciences (FHSS) PhD student Ms. Folashade Alloh as well as Prof. Edwin van Teijlingen of the Centre for Midwfiery, Maternal & Perinatal Health (CMMPH). Further national and international co-authors are: Dr. Om Kurmi based at the Nuffield Department of Population Health, University of Oxford; Dr. Nirmal Aryal, from the Department of Medicine, University of Otago, New Zealand; Dr.Puspa Raj Pant based at the Centre for Child and Adolescent Health, University of the West of England; and Amrit Banstola based in the Faculty of Health and Applied Sciences, also at the University of the West of England.
The paper can be found here!  Please note, you need to be a WASD member to login and download this paper. Once you are logged in you will see a 'Download' button in the box above.  If you do not have a login, you can register to join WASD free of charge.