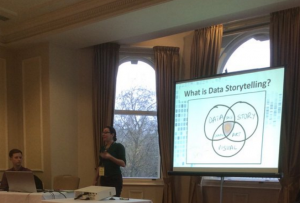 …and other lessons in #Dataviz were presented by our
BU Datalabs team
at the National Co-ordinating Centre for Public Engagement's
Engage 2015
event in Bristol last week. The annual Engage event brings together university leaders in public engagement from across the UK.
Representing BU Datalabs,
Dr. Anna Feigenbaum
and community partner James Marchant from
Small Media
, led an interactive sessions on Data Visualisation for Impact:
We kicked things off with an introduction to the BU Datalabs initiative. Our 
BU Datalabs
, which started with the support of a Fusion CCCP grant in Jan 2015,  works with NGOs, journalists and digital designers to run hands-on data aggregation, visualisation and digital storytelling workshops designed for addressing civic and humanitarian issues.
Since our team's inception last January, we have hosted over a dozen workshops and events, and given presentations across the UK, in Italy and the US, with a spring lineup including invited talks in Brighton, Sheffield, London and Japan.
At Engage 2015 we focused on how data visualisations of research processes, findings and outputs can be created to reach different kinds of audiences. Stressing the importance of combining storytelling techniques, design principles and communication strategies into data visualisation, we designed two hands-on exercises for participants to put their public engagement expertise to work.
Our partner, Research Manager James Marchant from Small Media, presented two of his NGO's projects
Writer's Block
on book censorship in Iran and UPR IRAN.
Sharing the 'aesthetics of research' with participants, James looked at how a data visualisation approach—when embedded throughout the research process from data gathering to research promotion—can increase public engagement and build pathways to impact. He noted that without data visualisation, there was little audience for this data on Iran's human rights records, but after it's re-imagining it as a data visualisation project, engagement soared.
To get involved in the BU Datalabs project, please contact afeigenbaum@bournemouth.ac.uk or ethorsen@bournemouth.ac.uk.