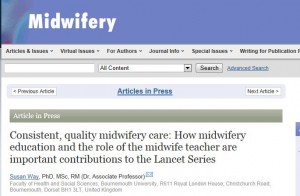 The forthcoming editorial in Midwifery (Elsevier) by FHSS's Dr Susan Way highlights the importance of midwifery education and its educators.[1]  This editorial makes reference to the recent series on midwifery in The Lancet.[2]  Of course, midwifery plays a vital role in improving the quality of care of women and infants globally. Dr. Way reminds us that consistent, high-quality midwifery care has a vital role to play in the reduction of maternal and newborn mortality. Outcomes are enhanced when care is led by midwives who are educated, licensed, regulated, integrated in the health system, and working in interdisciplinary teams, with ready access to specialised care when needed.
Midwifery one of the leading academic journals globally in the field of midwifery and maternity care.  Dr.Way is based in the Centre for Midwifery, Maternal & Perinatal Health in FHSS at the Lansdowne Campus.
Congratulations!
Prof. Edwin van Teijlingen
CMMPH
References:
Way, S. (2015) Consistent, quality midwifery care: How midwifery education and the role of the midwife teacher are important contributions to the Lancet Series, Midwifery (online first) see: http://www.midwiferyjournal.com/article/S0266-6138(16)00021-8/abstract

Renfrew, M.J., McFadden, A., Bastos, M.H. et al. (2014)

Midwifery and quality care: findings from a new evidence-informed framework for maternal and newborn care. the

Lancet

.

384

:

1129–1145

.