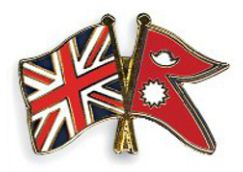 The current issue of the Nepal Journal of Epidemiology published today carries an editorial by a BU-led team of researchers and development workers. The editorial Mental health issues in pregnant women in Nepal highlights the intervention funded by THET which aims to improve the knowledge and attitude of maternity care workers in a rural district in the south of Nepal. The BU authors include Visiting Faculty: Padam Simkhada, Samridhi Pradham, Jillian Ireland and Bibha Simkhada, the other co-authors are affiliated with the charity we work with in Nepal (Ram Chandra Silwal), the Buddhist charity based in London Green Tara Trust (Padmadharini Fanning), and our Tribhuvan University based colleagues (Lokendra Sherchan, Shyam K Maharjan, and Ram K Maharjan.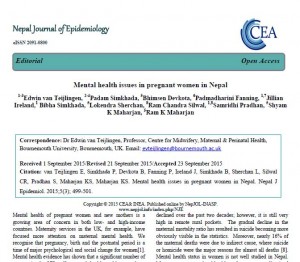 This THET-funded project will involve over 15 UK short-term volunteers. It is important to bring UK volunteers, who as health professionals will bring their experience of, and training in, the provision of mental health and maternity/midwifery services including the area of mental ill health prevention and health promotion. These experienced health workers (such as midwives, family doctors, mental health nurses, health visitors, psychiatrists) from the UK are invited to volunteer for two to three weeks at a time to design and deliver training.  The mixture of training staff abroad (= Education) by UK professionals (=Practice) through an intervention which is properly evaluated (=Research) is a perfect example of BU's FUSION in action.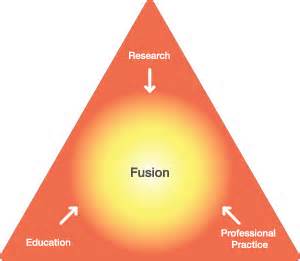 This project is supported by the Tropical Health & Education Trust (THET) as part of the Health Partnership Scheme, which is funded by the UK Department for International Development (DFID) and runs from this year May 1st until the autumn of 2016.  The paper is freely available on line, click here!
Prof. Edwin van Teijlingen
CMMPH
Refererence:
van Teijlingen E, Simkhada P, Devkota B, Fanning P, Ireland J, Simkhada B, Sherchan L, Silwal CR, Pradhan S, Maharjan KS, Maharjan KS. Mental health issues in pregnant women in Nepal. Nepal J Epidemiol. 2015;5(3); 499-501.