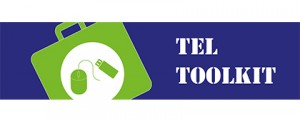 We are delighted to announce the launch of BU's TEL Toolkit.
The toolkit – created by academics, for academics – has been developed to support you in the application of TEL, including information on 'what', 'how' and 'who' to approach for more information.
To find out more about how the TEL Toolkit can help enhance your teaching and your students' learning experience, come along to one of our launch events, taking place during the week commencing Monday 1 February.
Tuesday 2 February, 11am to 1pm – Atrium, Poole House
Thursday 4 February, 11am to 1pm– Ground Floor, EBC
Friday 5 February, 11am to 1pm – Ground Floor, Bournemouth House
TEL Video
Take at look at our video which explains our vision for Technology Enhanced Learning (TEL) at BU
We look forward to seeing you there and please encourage your colleagues to attend too.