Nepal is approaching to one year of the occurrence of massive earthquakes without much progress on reconstruction and restoration of health facilities in severely affected areas, thus, priority health services such as immunisation and antenatal care are still seriously affected. Consequently, a significant proportion of Nepali population has no access public health services. Such destruction has a huge impact on health care delivery in the earthquake-affected areas because these health care service providers are the first point of access for basic health services.
This forthcoming paper 'Priority public health interventi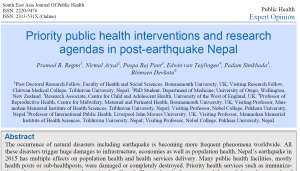 ons and research agendas in post-earthquake Nepal' [1] which has been accepted by South East Asia Journal of Public Health will be freely available in April this year, talks in detail around impact of the Nepal's earthquake on population health and health system infrastructure. This is a collaborative work among researchers of universities in the UK, Nepal and New Zealand. FHSS's Dr Pramod Regmi (lead author) along with BU Professor Edwin van Teijlingen, BU visiting Professor Padam Simkhada (Liverpool John Moores University, UK), Nirmal Aryal (University of Otago, New Zealand), Dr Puspa Raj Pant (University of the West of England, UK) and Professor Bhimsen Devekota (Tribhuvan University, Nepal) have contributed to this paper.
Through this paper, the authors suggest very important disaster-related national health research agenda coverin issues around: a) mental health, psychosocial needs, post-traumatic stress disorders; b) neonatal and child health; nutritional intake, immunisation coverage; c) cardio-pulmonary conditions; d) outbreak of communicable diseases; e) injuries/management of trauma; f) sexual and reproductive health: utilisation of antenatal care, delivery care, post-natal care, availability of family planning, sexual abuses in make-shift shelters; g) TB and HIV (service provision and adherence); h) disaster response plan and existing coping capacity and resilience among health care institutions. They have argued for a shift in health service motives to the management of long-term disabilities and disaster preparedness; so that acquired learning during this earthquake are utilised to strengthen evidence-based public health practices in the country. These experiences will also fill the loopholes in the post-disaster recovery strategies. The authors strongly recommend that Nepal should integrate community disaster reduction programs into routine public health service delivery in order to ensure sustainability. BU researchers have previously published around public health issues in post-earthquake Nepal [2, 3].
Pramod Regmi, PhD
References
Regmi P, Aryal N, Pant P, van Teijlingen E, Simkhada P, Devkota B. Priority public health interventions and research agendas in post-earthquake Nepal. South East Asia Journal of Public Health (Article in press)
Mahato P, Regmi P, van Teijlingen E, Simkhada P, Angell C, Sathian, B. 2015. Birthing centre infrastructure in Nepal post 2015 earthquake. Nepal J Epidemiol, 5 (4), 518-519.
Simkhada P, van Teijlingen E, Pant P, Sathian B, Tuladhar G. 2015. Public Health, Prevention and Health Promotion in Post-Earthquake Nepal. Nepal J Epidemiol, 5(2); 462-464.