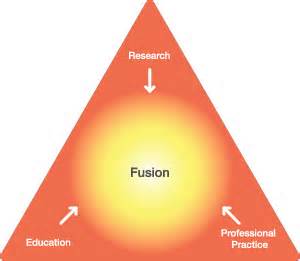 Doing a PhD may appeal to midwives and other NHS health professionals, but it often involves having to make difficult choices. Undertaking a part-time PhD means studying on top of a busy clinical position, but starting full-time study involves stepping away from practice, which may lead to a loss of clinical skills and confidence. The Centre for Midwifery, Maternal & Perinatal Health (CMMPH) at Bournemouth University has come up with a novel solution making it easier for midwives to undertake a doctorate while still maintaining their clinical skills. This approach is highlighted in the latest publication by Dr. Susan Way and colleagues, describing a process where CMMPH collaborate with NHS partners to apply for a match-funded PhD. [1]  The first partnership was with Portsmouth Hospitals NHS Foundation Trust (PHT), with later partners expanded to cover the Isle of Wight and Southampton. Currently there are negotiations with Dorset Country Hospital NHS Foundation Trust and Poole Hospital NHS Foundation Trust. Non NHS organisations have also showed an interest with the Anglo European Chiropractic College (AECC) our likely next collaborator.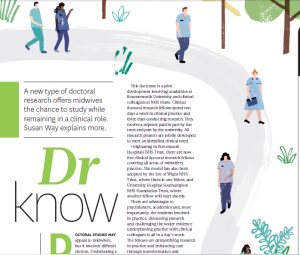 This jointly funded clinical academic doctorate allows midwives to combine clinical practice with a research role, working across BU and their NHS Trust. The studentships runs for four years and PhD students will spend two days per week working as a midwife in clinical practice and three days per week working on their thesis. This set up facilitates the co-creation of knowledge. Anybody interested in developing a joint clinical academic PhD with us please contact Dr. Susan Way (sueway@bournemouth.ac.uk), Prof. Vanora Hundley (vhundley@bournemouth.ac.uk), or Prof. Edwin van Teijlingen (evteijlingen@bournemouth.ac.uk) .
In addition to providing the individual midwives with excellent education, these studentships are designed to examine an area of clinical practice identified by the collaborating organisation where the evidence is lacking and research is needed. As a consequence the research studies will be directly relevant to practice and will have a demonstrable impact in the future. Hence BU will be able to show that its research and education have a direct benefit to the wider society. Moreover, the studentships currently benefit midwifery practice by building a critical mass of research-focus practitioners, who will translate research findings into practice and so create a culture of evidence-based practice. At BU the model has also been adopted by other professional groups such as nursing, physiotherapy and occupational therapy (OT).
The result is a clinical academic doctoral studentship is probably the best practical example of BU's concept of FUSION, since it truly fuses research, education and practice.
Susan Way, Vanora Hundley & Edwin van Teijlingen.
CMMPH
References:
Way. S., Hundley, V., van Teijlingen, E., Walton, G., Westwood, G. (2016). Dr Know. Midwives (Spring Issue): 66-67.