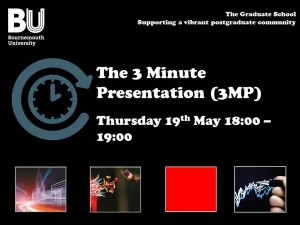 The final 3 Minute Presentation (3MP) event for the academic year will be held on Thursday 19 May 2016, 18:00, Talbot Campus.
If you haven't already heard about this event it provides postgraduate researchers, staff and post-docs opporunitities to collaborate, gain research exposure and celebrate being a part of research in a fun dynamic way.
We have 10 presentation spots left (2 for post-docs) and if you'd like to challenge yourself into presenting your research in 3 Minutes please email pgevents@bournemouth.ac.uk for an application form. All presentation spots are decided on a first come serve basis and the deadline for all applications is Monday 9 May 2016.
To attend the event please book here: 3MP ticket
We hope to see you there
Best wishes
The Graduate School team