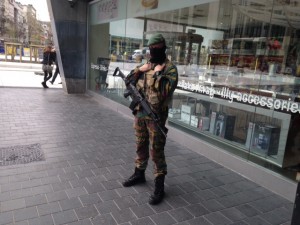 My journey to the Horizon 2020 event in Brussels (secure society) started when my colleague Ehren brought the event to my attention and suggested it is one I should attend. In between doing other things I committed to go and decided to take one of my research students who works in a related area to mine. The earlier Brussels attacks didn't change my mind, or her's, and in fact made it so more important that we should attend the event given its nature – secure society. Despite all her best efforts, including taking an 18 hour bus journey to Manchester and back to apply for her visa, her visa didn't arrive on time, and here it I was on my way to Brussels, taking the 3.00 am bus to Waterloo and then the Eurostar from St Pancras to Brussels. Quiet streets of London early at 5 am meant I met a couple of unwanted friendly rats who accompanied me from Victoria coach station to Victoria underground station, where I saw some more  of them fighting on the rail. Travel to Brussels was quick and I got in to the city centre at 11.00 am and headed for the meeting venue where it started at 1.30 pm.
The meeting in the afternoon was excellent, they had a number of speakers from the Deputy Head of Horizon, to the call coordinator, legal, finance, ethic support etc. Each one went to into great detail and explained all one needs to know about applying for the Horizon bids in general.  The meeting was extremely well organised and it was disappointing to see such a large number of participants failing to attend, ironic that the strand was for a secure society and yet we are failing to take our part. I left the meeting at 6.00 pm and managed to look around 'military Brussels', witnessing some of the lost freedom in the capital of Europe, taken by those who used the liberal democracy of Europe to attack it from within.
The Wednesday morning sessions could not have been better, the EU Horizon 2020 professionals, went through each bid call, one by one, and explained all the criteria and the do's and don'ts when bidding. There were a number of opportunities to ask questions regarding the bids and the time available for the presentations for attendees to pitch to secure suitable partners. They laid on a wonderful lunch which was served to us and in the afternoon there were further opportunities for one-to-one speed dating with other attendees.
Attendance at the meeting in the Sheraton hotel was free, and one of the best organised meetings I have ever attended. I left Brussels having learned a great a deal in terms of EU bidding activities, details regarding my selected bids and a number of business cards from colleagues across Europe and beyond. It was a brilliant opportunity to put faces to names and more importantly to listen to professionals talk – all in all it was an absolute eye opener and invaluable training for bidding! Thank you Ehren and Jacqui for making this happen, Thank you Seren3brussels2016 for such a wonderful training sessions and great hospitality!
I will go again…
Please like our Facebook page: https://www.facebook.com/FHcommunity