Better later than never. Finally, I found some time to write about our incredible time in Moscow.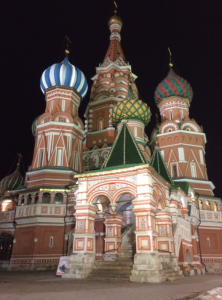 Supported by Santander FIF fund, Dr Parisa Gilani and Dr Elvira Bolat (me) travelled to beautiful sunny Moscow (10 March -13 March) to run the "Digital momentum for SMEs" workshop. The workshop took place in Faculty of Management, Financial University (Moscow, Russia) and was well attended by students across different levels.   In total 30 students were selected to engage with two master-classes, which aimed to promote academic strengths of Bournemouth University in the fields of digital marketing, leadership and SMEs management and marketing.
Two interactive master-classes covered the following topics:
"Digital marketing for SMEs" (delivered in Russian by Dr Elvira Bolat)
2. "Leadership in the context of SMEs" (delivered in English by Dr Parisa Gilani).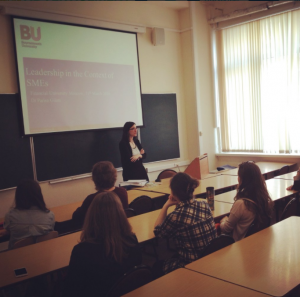 Following workshops, both BU academics have met Faculty of Management (Financial University) Executive Team to discuss joint research projects, prioritising EU research funding, joint publications and public engagement opportunities.
Financial University is first formal partner of BU in the Russian Federation. Moreover Financial University is part of Santander Universities network. FBU workshop was a fantastic opportunity to strengthen BU and Financial University partnership resulting in increased visibility of BU in Russia, promotion of BU portfolio of undergraduate and postgraduate courses among our Russian partner's students and, most importantly, increasing awareness of BU's academic and professional expertise in the fields of digital marketing and leadership.
We are definitely looking forward to working further with Financial University and expecting their academic staff  and group of students to visit BU in September/October 2016.
Second part of the visit involved meeting with well-established Professor of Law Marina Telukina whose academic expertise covers bankruptcy and commercial law. At the moment Professor Telukina is working across various Higher Education Institutions in the Russian Federation but is a full-time member of staff in the Russian Presidential Academy of National Economy and Public Administration (RANEPA).
Professor Telukina is willing to strengthen her academic ties with BU (sharing her knowledge and practice of Russian Law) and work on collaborative projects between Faculty of Management (BU) and Graduate School of Management and Innovation in Lomonosov Moscow State University – something our team is really excited about. Professor Telukina has now planned visit to the UK in August 2016 and we are planning to meet in Bournemouth in order to discuss details of joint research projects.
That is all from me. Hope, you are now more open to expanding your academic networks. Santander Fusion Investment Fund is best option to support you in this. Full list of global Santander Universities partners can be found here: http://www.santander.com/csgs/Satellite?appID=santander.wc.CFWCSancomQP01&c=GSInformacion&canal=CSCORP&cid=1278679137354&empr=CFWCSancomQP01&leng=en_GB&pagename=CFWCSancomQP01%2FGSInformacion%2FCFQP01_GSInformacionDetalleSimple_PT08
Elvira Bolat