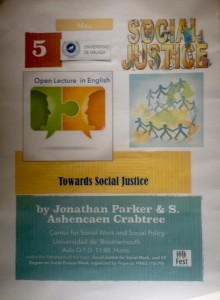 Professor Jonathan Parker and Professor Sara Ashencaen Crabtree were honoured to be invited to the Universidad de Málaga to present their work with the Orang Asli (first peoples) of West Malaysia, undertaken in 2014 with the assistance of a Fusion Investment Fund grant from BU and honorarium from the Universiti Kebangsaan Malaysia.
The honour was manifold, not only because of our on-going partnership in research, scholarship and education with colleagues in Málaga, in particular Prof Mária Luisa Gomez Jimenez, but also because it expressly allowed us to tell the story of the systemic disadvantages experienced by and deliberate marginalisation of the Orang Asli living in the Tasik (lake) Chini region in the state of Pahang, Malaysia.
When undertaking our ethnography, a study that sought to capture the culture, thoughts, feelings and anger of the people, we were struck by our seeming voyeuristic impotence as researchers, especially as researchers from a high income Western country. We questioned what we could do to assist the people in challenging their disadvantage and marginalisation and being engaged with the communities we asked them, explaining clearly that we could not directly change government policy, the social stigma resulting from commonly assumed myths and perceptions of the Orang Asli. The people, with one voice, entreated us to tell their stories across the world.
We have attempted to stay true to this request since our research ended. Alongside various blogs and academic papers, our book The Death of the Dragon God Lake is now with the printers. Academic outputs can often, however, gather dust and remain unread outside academia. However, having signed with an activist publisher in Malaysia and secured distribution rights for Europe and the US through a British publishing house it is more likely that this will promoted as a social critique.
The best way, having said this, to ensure the socio-economic and environmental plight of the Orang Asli is to speak with faculty, students and members of the general public around the world, to raise awareness, to discuss power relations and to offer critique of global neoliberalism, acknowledging, of course, our own positions in respect of our work. The invitation to Málaga, with a specific request to talk about social justice, allowed us to promote the cause of the Orang Asli, to fulfil our promise and to bring these often hidden issues into the open. We were fortunate in this open lecture in Málaga to be speaking to a broad international audience including Spanish, German, Costa Rican, Canadian and Romanian participants, ensuring the messages would be spread wide.
Ethnographic research can no longer simply illuminate some perceived exotic 'other' but must engage directly with the life-worlds of disadvantaged and marginalised peoples, telling their stories and challenging oppressive socio-political and economic structures through research and scholarship.
Jonathan Parker and Sara Ashencaen Crabtree