Just one week into our fusion-funded study leave and work is developing, growing and coalescing around the objectives we set and negotiated last June and July.
We arrived in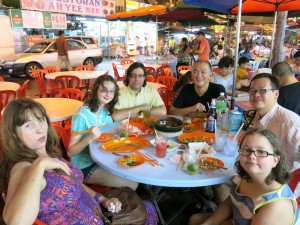 Kuala Lumpur last Saturday evening (11th Jan), stumbling into our hotel after the 11-hour flight having watched the films Rush and one featuring an improbably accident prone and deranged Sherlock Holmes character, with the children glued to Cloudy with a Chance of Meatballs 2.
Sunday 12th January took us straight into our first meeting, after a brief punctuation for swimming, to discuss the plight of the Jakun, a tribe of the Orang Asli (first people), living at Tasik Chini, one of only two natural freshwater lakes in Peninsula Malaysia. The effects of mining, concomitant environmental damage, the needs of the people and some of the perceived tensions between those working and researching with the Orang Asli were described.
Our thoughts concerning the plight of the Orang Asli were further agitated by discussion with the social science team, the meeting being chaired by Prof Dato' Mushrifah Idris, the head of the Tasik Chini Research Centre at Universiti Kebangsaan Malaysia (UKM – National University of Malaysia) of which we are honoured to be visiting professors. The mining activities have expanded significantly since we last met with Prof Mushrifah in summer 2012 and the outlook for the already resettled Orang Asli seems increasingly bleak.
A large part of our work whilst we are with UKM is to assist with the research. We were heartened to learn of the formation of the social science team within the Tasik Chini Research Centre since our earlier discussions with Prof Mushrifah, a natural scientist. Discussion centred on the fact-finding work and concern to illuminate the perceptions of the Orang Asli, our particular contribution being to consider how we can elicit the stories, beliefs, wants and needs of an increasingly voiceless people.
Over the next few weeks we will be making introductory visits and meeting people who work alongside these groups as advocates and welfare workers. The social science team also want us to work with their social work and sociology student groups to help develop a community development approach at the Tasik Chini site. It was suggested that a Participatory Action approach would probably be the best way forward where community members act as equal partners with academic staff and students to identify needs and solutions.
From the first meeting onwards, we also discussed some of the fears expressed about developments in social work education and practice as Malaysia moves slowly towards passing, and subsequently, implementing its Social Work Bill. A new college initiative is being proposed to address some of the anxieties of non-social work graduates and many NGOs regarding the concern that they will be marginalised by graduate social workers solely benefitting from social work becoming a protected title. We have been asked to advise on the curriculum in this venture.
We were also invited to assist in the development of a new Master's programme in social work at UKM, determining whether a niche in medical sociology and social work or an emphasis on marginalised and disadvantaged groups would play best to strengths. Prof Vishantie Sewpaul, vice president of the International Association of Schools of Social Work and Kwa-Zulu Natal South Africa, and ourselves joined the UKM team in exploring how they might best develop the academic elements and niche areas. This will involve further discussion but was given a boost the following day (Thurs 16th) at a special colloquium at the Institut Sosial Malaysia, in which we advised on publication and research strategies.
In between this work, background reading, catching up with emails (when we can as email connection is sporadic!) trying to swat mosquitoes, find food and locate a local launderette – and generally navigate our way around on foot in a largely non-pedestrian society where wheels are essential, we are also busily educating our children. In many ways this provides an important balance and helps us in engaging with our family-friendly hosts!
We have also been delighted to meet our former Malaysian students attending the meetings that we have each respectively taught over the years at Universiti Malaysia Sarawak and at University of Hull, who have now reached positions of prominence in their chosen professions. We were both astonished to find out that so many people we have met this week were not only were aware of our individual previous research but were able to refer knowledgably to a number of our papers that relate to the Malaysian context.
So early days and only one week in; but already there are signs of meeting those key fusion objectives of developing international research links, educational opportunities that may link to professional practice outcomes.
Jonathan Parker & Sara Ashencaen Crabtree