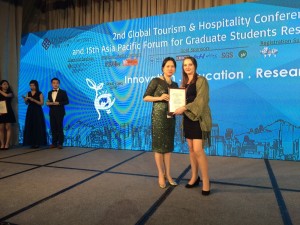 Bournemouth University Events Management graduate, Katherine Devenish, has won the 'Best Research Paper Award' for undergraduate research at the Asia Pacific Forum for Graduate Students Research in Tourism.  Katherine's research into event greening – the process of incorporating socially and environmentally responsible decision making into the planning and implementation of an event – was carried out as part of her undergraduate dissertation.
Her research explored the factors that ease or impede the process of event greening in the corporate world, based on interviews with staff from a UK corporate event organisation.  As well as identifying the barriers and facilitating factors, Katherine's paper also makes useful recommendations for practice.  These include developing a formal environmental policy to support cultural change within the organisation, encouraging long-term thinking to improve the use of resources and providing formal training to improve staff knowledge of greening measures.
Katherine was encouraged to submit her research paper to the conference by her supervisor – Dr Miguel Moital, a Principal Academic in Events Management.
"Katherine did extremely well in her dissertation, which was essentially written at journal article level," explains Dr Moital, "We have developed it into a full academic paper which we've submitted to a journal.  We're waiting for reviews at the moment."
"After we'd written the paper up, I found out about the 'Best Undergraduate Research Paper Award' at the Asia Pacific Forum and encouraged Katherine to submit the final paper.  I was delighted to hear that she had won first prize."
The conference was hosted by Hong Kong Polytechnic University's School of Hotel & Tourism Management – one of BU's partner institutions.  Conference organisers incorporated an undergraduate award with the aim of highlighting and fostering high quality research from undergraduates across the world.
To find out more about Katherine's experiences, please see her video blog.