Congratulations to Dr. Miguel Moital, Principal Academic in the Department of Events & Leisure, who has just published a co-created paper in Sport Management Review, an Elsevier journal which boasts an impact factor of 3.5 and an acceptance rate of 17%. The paper is co-authored with two BA (Hons) Events Management graduates – Amy Bain and Harriet Thomas – who did their dissertation on prestigious sports events.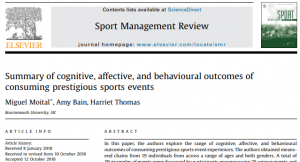 The paper explores the range of cognitive, affective, and behavioural outcomes of consuming prestigious sports event experiences. Amy and Harriet underpinned their dissertations on the Prestige Motivation Model, a model Miguel co-developed in 2009. Miguel covers the model in his Consumer Experience & Behaviour unit (Level 5) and in their dissertation both students went on to apply the model to sports events. Amy and Harriet did a very similar study with a difference: Amy focused on a variety of prestigious sports events, while Harriet focused on VIP sport event experiences. The two studies were combined to produce the now published paper. The full paper can be found here.
Commenting on the experience Amy said
"I'm delighted that my research has been published. I went to a great deal of effort to ensure that the subject of my dissertation was not only interesting and current, but a true and accurate reflection of the impact of prestige as a motivation to attend events. For me personally the most exciting part about the process was seeing the paper evolve in a way that it clearly demonstrates the potential of prestige to generate important outcomes for the attendee and the event organiser."
Harriet was also delighted to have co-authored the paper:
"I'm so proud to see the research I conducted for my dissertation now included within the Sports Management Review journal- it's something I never expected! I was really interested in the previous work carried out by Miguel on Prestige Motivation in Tourism and this acted as a starting point when deciding on my dissertation topic. The process was certainly a challenging one, and I had to edit, re-word and revisit my work many times throughout, so persistence was definitely key! The project soon started to come together and it's so rewarding now to see I've contributed to an article within a top academic journal."
Miguel said:
I am thrilled to see this paper published in a high quality journal, which gives credit to the quality of the work carried out by Amy and Harriet. I have covered prestige motivation in my consumer experience & behaviour unit since 2009, but the research on which this paper is based has greatly enhanced the content of the lecture, fulfilling an important gap in the module while at the same time inspiring other students to carry out further research on the topic. I am a strong believer in students-as-researchers and this paper in a top sport management journal is a great way of celebrating my 10th journal article co-created with BU undergraduate and post graduate students.
This paper is part of a long tradition within the Department of Events & Leisure involving the co-creation of papers based on student dissertations. In the past five years students and staff of the Department have published co-created papers in Event Management (Cognizant), the International Journal of Event & Festival Management (Emerald), the Journal of Fashion Marketing & Management (Emerald), Young Consumers (Emerald), and the Journal of Hospitality & Tourism Insights (Emerald). These publications are a testimonial of the high quality research carried out by events and leisure graduates.