Bournemouth University is getting ready to host the 7th BCUR (British Conference in Undergraduate Research) on April 25-26 2017. Previous hosts include: University of Central Lancashire (2011), University of Warwick (2012), Plymouth University (2013), University of Nottingham (2014), University of Winchester (2015), and in 2016 Manchester Metropolitan University. BU has had representation at each of these gatherings previously, and is looking forward to hosting in 2017. At the last gathering in Manchester, the faculty of Management, SciTech and HSS all had undergraduate student abstracts accepted, profiling their research by way of poster session or oral presentations.
Two students who participated at the March 2016 conference in Manchester took a lot away from the enhanced learning experience the conference offered.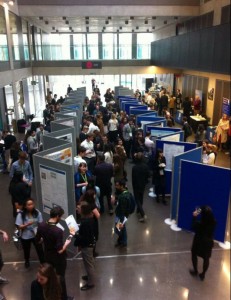 Aaron Wornes, final year international hospitality management student who presented his research on The General Attitudes of Self-Service Technology said "The diversity and level of research that was being presented was enthralling. I felt so proud that I was able to share my interests though my own research. My only regret was that I didn't hear about BCUR sooner, I can't wait for Bournemouth to host next year". Edwin Lewis, a final year Tourism Management student made the following observations, "…it has given me time to reflect not only on my own research and what else I could include, but also the wide variety of undergraduate research that is being studied. The conference really helped me understand how important it is to recognise research projects. I am very excited that BU gets to hold BCUR next year". Edwin presented his dissertation research on The Impacts of Airline Hubs on the European Aviation Market, A Case Study of the Emirates.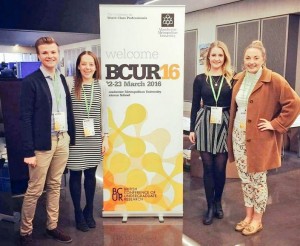 The current BU organising committee is taking shape with UET support and is made up of Gail Thomas (CEL), Luciana Esteves, Mary Beth Gouthro (conference co-chairs); representatives from each faculty, ie Maggie Hutchings/Peter Thomas (HSS); Xun He (SciTech); Fiona Cownie (FMC) and Miguel Moital (FoM). Also contributing to the planning are team members from: Marketing Communications, BU Events Team, SUBU and Estates.
Bournemouth Uni is expecting well over 400 delegates to this national research conference next April. It is a great opportunity to showcase the diverse quality of undergraduate research being undertaken at BU and other UK universities in attendance. If you seek further information, please contact any of your faculty colleagues mentioned above or co-chair Mary Beth Gouthro mgouthro@bournemouth.ac.uk.
For more information on BU's prior involvement in BCUR activities, previous research blog entries can be found below, and follow #BCUR17.
2014:
http://blogs.bournemouth.ac.uk/research/2014/04/24/school-of-tourism-undergraduates-highlight-research-at-national-bcur-gathering-2/
2015:
http://blogs.bournemouth.ac.uk/research/2015/03/02/bu-undergraduate-research-featured-in-houses-of-parliament/
2016:
http://blogs.bournemouth.ac.uk/research/2016/02/16/bu-undergraduate-research-on-show-in-parliament/