The UK's best undergraduate research has been on show in Westminster earlier this month.  The annual Posters in Parliament exhibition, hosted by the University of Central Lancashire (UCLan), saw 53 students from 27 universities display their research to a range of MPs and higher education policymakers, among them two BU undergraduates.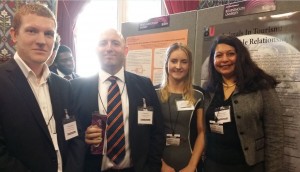 Final year undergrad student Eleanor Green of the Faculty of Management, presented her research on the sustainable relationship between animals and tourism. 'Posters in Parliament was a great event to be involved in, it provided me with a valuable insight into people's opinions on my topic area … thanks to the in depth questions and conversations held with various attendees throughout the day.  Seeing other undergraduate research was extremely eye-opening and the quality of everyone's projects made me proud to be invited along to such an event and represent BU'. Eleanor is supervised by Susanna Curtain, Senior Lecturer in Tourism in the Faculty of Management and joined by Neelu Seetaram, Head of Research for Tourism & Hospitality.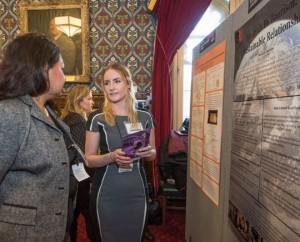 Daniel Whitford, of the Faculty of Science and Technology presented his research on Deriving effective network security monitoring rules from attacker personas. 'Parliament was a great setting for this event. As the sole cyber security exhibitor the biggest challenge was explaining the purpose of my project to people from other disciplines, though being forced to do so definitely sharpened my thinking. I would definitely recommend to other student s that they apply next year'. Daniel is supervised by Dr Shamal Faily, Senior Lecturer in Systems Security Engineering.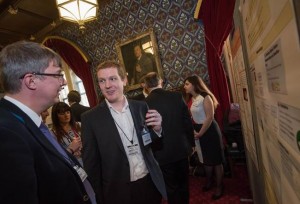 The 2 BU students presented their research among other UK undergrads and spanned topics that ranged from: brain trauma rehabilitation to decoding the national computing curriculum; the discourse of masculinity in children's books to change management success factors in the NHS.  BU is hosting its own undergraduate research event on March 2nd, as part of SURE (Showcasing Undergraduate Research Excellence).  Research from all faculties will be on display and presented at this second annual event.
Influential government and sector leading dignitaries were in attendance in Westminster and included former Chair of the House of Commons Education Committee Barry Sheerman MP; Professor Les Ebdon, Director of OFFA; Madalaine Ansell, Chief Executive of University Alliance; and John Redwood MP.
UCLan's Professor Stuart Hampton- Reeves, Chair of the British Conference of Undergraduate Research (BCUR) Steering Group, said: "This event gave MPs the opportunity to see that our students are at the cutting edge of their respective fields, and are making gains that can lead policy making in the future. Many of the students at the event have already been published or co-published and are going above and beyond the expectations of undergraduate capabilities."
The undergrad student posters where led by judging panel Sir Anthony Cleaver, Chairman of Natural Environment Research Council; Professor Sir Colin Berry, Professor Emeritus at Queen Mary University; and Nick Hillman, Director of Higher Education Policy Institute.
The best poster prize was awarded to Amanda Campbell, from University College London, whose interdisciplinary research centred on finding biodegradable solutions to temporary structures like festival tents.
Established by UCLan four years ago, Posters in Parliament is the precursor event to the national BCUR (British Conference of Undergraduate Research) and held in March this year at Manchester Met University. BU Staff member, Dr Mary Beth Gouthro sits on the steering committee for the BCUR national conference. BU plans to host the follow on BCUR in April 2017. Any questions, do email mgouthro@bournemouth.ac.uk.