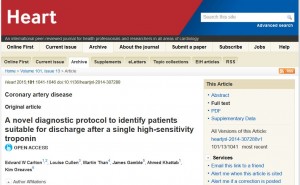 Best Paper for 2015 Award in the international journal Heart.  A paper published by Bournemouth University PhD student, Edward Carlton,  and his supervisors, Prof. Ahmed Khattab (FHSS) and Prof. Kim Greaves from the University of the Sunshine Coast in Australia in collaboration with world-renowned hospitals: John Radcliffe Hospital in Oxford; Royal Brisbane & Women's Hospital in Australia; and Christchurch Hospital in New Zealand has  been announced as the Winner of the "Heart Best Paper 2015  Award" [1].  This award is in recognition of the high quality and clinical impact of the paper. The winner for this award were chosen by the Editorial Team from the top 10 papers in each of the following three categories: downloads, citations and Altmetrics Score.
Dr. Edward Carlton has just finished his PhD at BU and he is now working as an Emergency Medicine Consultant in Bristol.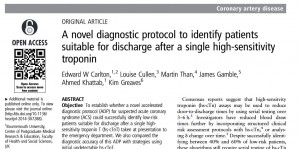 Congratulations!
Prof. Edwin van Teijlingen
CMMPH
Reference:
Carlton EW, Cullen L, Than M, Gamble J, Khattab A, Greaves K. A novel diagnostic protocol to identify patients suitable for discharge after a single high-sensitivity troponin. Heart. 2015 Jul;101(13):1041-6. doi: 10.1136/heartjnl-2014-307288. Epub 2015 Feb 17.