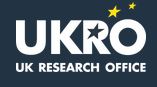 ​​​In its capacity as UK National Contact Point for the European Research Council (ERC), the UK Research Office, in partnership with the hosting institutions, is holding two events for researchers who are interested in applying for the next ERC Starting Grants call. The events are scheduled as follows:
•University of York, Monday 5 September 2016, 13:30 – 17:00
•King's College London​, Tuesday 6 September 2016, 10:00 – 13:00
​​The scheme is designed to support Principal Investigators (PIs) at the stage at which they are starting their own independent research team or programme. To be eligible for the 2017 call, the PI must have been awarded their PhD between two and seven years prior to 1 January 2017 (extendable in certain strict cases).
The next ERC Starting Grant call is not yet available on the Participant Portal but please refer to the ERC website for all information about this and other ERC calls.
BU staff can also register, via BU subscription, on the UKRO website to receive announcements concerning EU funding direct to your own inbox – make sure that you hear first!
If you are considering applying, please contact Emily Cieciura, REKO's Research Facilitator: EU & International, in the first instance.