Since next week (25-29 July) is Writing Week in the Faculty of Health and Social Sciences (but anyone interested in health research can come and see us), we'll be giving you some tips on ways to make the most of the dedicated writing time as well as letting you know which members of the BU Clinical Research Unit team can help you and when they are available (see table below).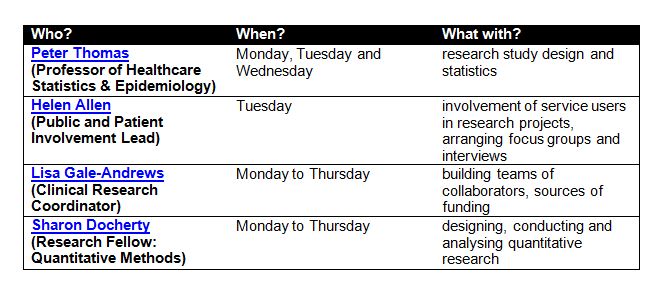 In yesterday's post we covered how we can help you build a research team. Step 3 focuses on choosing a suitable funder for your research project. You may be an established researcher with several grants already under your belt and a fair idea about the funders that are appropriate for your area of research. Whatever stage you're at it's important to target the right funder. Ensure your research idea fits with the funder's strategic aims and priorities. Do they fund solely quantitative research, or do they prefer a mixed-methods approach? Do they have open investigator-led calls or commissioned calls only? Although it's not all about the money, ensure the funder has a sufficient funding limit for your project – an under-costed project will be obvious to a funder and is unlikely to be successful.
If you're not sure where to start Lisa Gale-Andrews (lgaleandrews@bournemouth.ac.uk) can help identify suitable health research funders for your project. She will be available all day Monday-Thursday during Writing Week if you'd like to pop in (R506).
There's more to come on grant applications over the next few days including research design, and the importance of patient and public involvement (PPI).